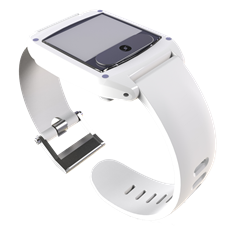 Dallas, TX (PRWEB) October 19, 2017
Sensogram Technologies is excited to announce its appearance in the upcoming trade show Connected Health Conference on Oct. 26-27 at Boston's Seaport World Trade Center.
Sensogram is showcasing three of its products: SensoSCAN, SensoRING, and VitalBand. All three devices focus on vital signs monitoring and remote patient monitoring.
"Connected Health has been a valuable venue to meet partners and customers in the past," says President Ernie Ianace. "This year, we will be introducing our newest wearable, VitalBand, as well as our BLE to Wi-Fi gateway."
VitalBand is the first automatic fall detection smart watch. It also monitors vitals, step count, calories burned, and can be programmed for med reminders and goal notifications. By setting pre-programmed contacts, the watch automatically calls out and texts in the event of a fall, or when the panic button is pressed.
"VitalBand is going to revolutionize aging in place, " says Ianace. "We believe this will not only have an impact on our parents' generation, but generations to come."
Visit Sensogram at Booth #10 to learn more about its products.
###
Media Contact:
Natalie Marciniak
Marketing Coordinator
972.473.2500
Natalie(at)sensogram(dot)com
About Sensogram Technologies:
Sensogram Technologies is a research and development company that designs, produces and markets innovative biosensors that are easy-to-use wireless mobile devices. Sensogram allows real-time, continuous, remote and mobile monitoring of vital signs such as blood pressure, heart rate, respiration rate, oxygen saturation, and others.
Founded by Dr. Vahram Mouradian, the company was established on the vision of empowering people to take control of their own fitness, health and wellness.