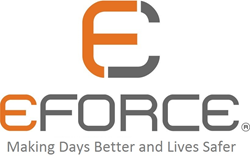 Rather than following the pack or doing business as usual, we seek out employees and customers who would prefer to make a difference in the daily operations of our users, and to improve the safety of all our communities, along with the people who protect them. - Cory Bowers, CEO, eFORCE Software
Logan, Utah (PRWEB) October 19, 2017
Two new modules were announced by eFORCE this week as part of its latest software release; Citizen Reporting and Report Scheduling. These modules are just two of the dozens of features included at no cost to its growing customer base.
eFORCE's hundreds of customers range from a small constable's office to an entire country with multiple locations and over 600 units in the field. "We support a broad range of customers; this is a tribute to the flexibility of our tenured web-based solutions, which allow us to meet the needs of about any customer," said Charles Price who oversees customer support operations. eFORCE services a large number of public safety organizations including police departments, sheriff's offices, campus police, courts, correctional facilities, private security, transit police, and various state agencies.
Along with a growing customer base, eFORCE continues to pave the path with leading technologies. eFORCE was one of, if not the first, to move to the web-based platform. In 2003, eFORCE launched its web-based Records Management application and soon followed up with an industry first web-based Computer Aided Dispatch (CAD). Today, eFORCE offers a complete suite of web-based solutions, along with its recently added Mobile IOS apps, which allow officers to write and print citations, have live interaction with dispatch, and to search mission-critical information from an iPhone or iPad.
The prominence of eFORCE has come through organic growth, continued innovation, customer focus, and financial stability. You will not find a large sales and marketing department, notable employee or customer turnover, or any change in ownership at eFORCE. When asked if this is why eFORCE has been so successful, Cory Bowers, CEO stated "Of course it is, success is a by-product of a hard-fought, never-ending journey in which many people are impacted in a positive way. Rather than following the pack or doing business as usual, we seek out employees and customers who would prefer to make a difference in the daily operations of our users, and to improve the safety of all our communities, along with the people who protect them."
In addition to many other accolades, eFORCE has been recently recognized by Technavio as one of the top vendors in the law enforcement market trending through 2021.