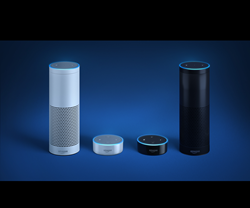 Clients in healthcare and pharma recognize that promise of voice to achieve their aims of improving patient care and wellness, while managing costs.
BOSTON (PRWEB) October 18, 2017
Orbita, Inc. today announced a major upgrade to its Orbita Voice™ platform that enables healthcare organizations and service providers to create and maintain powerful applications for voice-assistants and conversational AI platforms like Amazon Alexa and Google Assistant. This latest version of Orbita Voice adds important new features to accelerate development and streamline maintenance of voice-first, enterprise healthcare applications, including:

Omni-Channel Publishing - Create once and publish to multiple voice assistants, chat bots, and other conversational AI interfaces for smart speakers, mobile apps, SMS, and interactive voice response (IVR) phone applications
Integrated Project Management - Manage multiple voice projects with concurrent editing, version control, and much more
Content and Experience Management – Empower non-technical staff with pre-built templates optimized for healthcare applications (assessment surveys, FAQs, calendar management, messaging, and more)
Flexible Integration - Readily add voice experiences to existing business systems, processes, and digital channels using flexible APIs and 3rd party integrations.
"Orbita's technology offers proven functionality, scalability and stable integration, which enables ERT to develop new solutions that help patients to stay engaged in clinical trials and remain compliant with their treatment," said Karin Beckstrom, senior product manager at ERT, a leading clinical trial services company collaborating with Orbita to research innovative approaches for data procurement and management. "We look forward to applying this capability in our solutions so that researchers are able to minimize risks and accelerate their clinical development programs."
Orbita will showcase Orbita Voice at the Connected Health Conference in Boston, October 26 to 28 in the Connected Health Pavilion at Kiosk #18. Orbita President Nathan Treloar will present on a panel titled Amazon Echo in Healthcare Applications on Thursday, October 26 at 2:40 pm.
"The healthcare industry is embracing intelligent voice assistant technology as a powerful way to increase patient engagement, improve care coordination, enhance education and deliver real-time insights," said Orbita CEO Bill Rogers. "But the unique requirements of healthcare demand solutions that are secure, scalable, robust, maintainable, and proven. We are proud to offer the first enterprise-grade, HIPAA-compliant platform for creating and managing voice assistant applications that meet the healthcare industry's strict requirements."
"Our clients in healthcare and pharma recognize that promise of voice to achieve their aims of improving patient care and wellness, while managing costs," said Timon LeDain, director Internet of Things of Macadamian. "By combining Macadamian's expertise in UX design and software development with Orbita's state-of-the-art voice-first platform, we are helping them to realize this promise."
About Orbita
Orbita is a provider of digital solutions for healthcare that leverage next-generation voice assistant and AI technologies to vastly improve remote patient monitoring, clinical education, and care coordination, and research. Orbita works with healthcare systems, service providers, pharmaceutical companies, and other healthcare organizations to enable digital healthcare solutions that improve outcomes, reduce costs, and minimize risks for patients with chronic or post-acute healthcare needs. http://www.orbita.ai