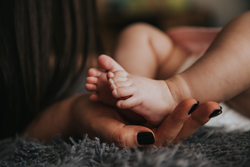 We ensure a safe and compassionate space for mothers to learn how to care for themselves and their infant.
WILMINGTON, Del. (PRWEB) October 19, 2017
All moms wonder if their babies will inherit some of their qualities, like their good genes, their talents or even their looks. But no one wants their baby to inherit their disease of addiction. Every 19 minutes in the United States, a baby is born addicted to opioids.
To help the mothers of these babies, Brandywine Counseling and Community Services (BCCS) is offering an outreach program to give Delaware mothers the education and tools to provide care for their opioid-addicted babies: The Perinatal Case Management Service program teaches women how to bond and take care of their baby if it was born addicted to opioids.
"We ensure a safe and compassionate space for mothers to learn how to care for themselves and their infant," said BCCS CEO Lynn Fahey, PhD. In 2016, the perinatal program helped 84 mothers and moms-to-be and 69 infants. "When a baby is born addicted to opioids, they experience withdrawal symptoms that are excruciating to watch."
These symptoms may begin as soon as 24 hours after birth or as late as 10 days:

Tremors
Convulsions
High-pitched constant crying
Vomiting
Diarrhea
Dehydration
"It's hard to imagine the pain and suffering the baby is experiencing. We must break this cycle. BCCS is doing its part to lead the way," said Fahey. In Delaware last year, there were 431 reports of substance-exposed infants to the Department of Services for Children, Youth and Their Families, a sharp increase from the previous year."
BCCS has been partnering with Christiana Care Health Systems, St. Francis Hospital and Beebe Medical Center in order to raise awareness and connect pregnant women and new mothers to the services. The hospitals will continue to refer mothers of addicted newborns to BCCS for immediate help and education about caring for their child.
"To all mothers of opioid-addicted babies, their partners, their friends, and their family – help is here. Brandywine Counseling is waiting to hear from you so we can start helping you learn how to take the best care of your baby," said Fahey. "Do it for yourself and for a healthier future for your baby."
The Perinatal Program will be available 5 days a week from 7a.m. to 3p.m. at all BCCS locations throughout Delaware, including: Wilmington, Newark, and Milford. The perinatal team at BCCS is comprised of registered nurses, a community wellness advocate, and access to a physician's assistant or a nurse practitioner, as needed. Funding for the program is provided by the Delaware Division of Substance Abuse and Mental Health (DSAMH).
For more information, contact Adar Wells at 302.504.5382 or awells(at)brandywinecounseling.org.
BCCS is a welcoming and innovative organization that contributes to stronger communities. We enhance quality of life by creatively providing Education, Prevention, Early Intervention, Treatment, and Justice-Involved Services. It is with integrity that we promote hope and empowerment to persons and families touched by mental illness, substance use, HIV and multiple occurring diagnosis, and their related challenges.