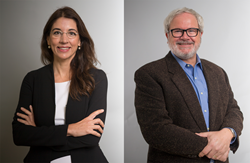 Former HP and Intel Executives join AerNos Management Team
San Diego, CA (PRWEB) October 19, 2017
AerNos, an innovator in nano gas sensors, announced the addition of two technology leaders to its executive management team, appointing Andrea Giralt as Senior Vice President of Operations and Herve Lambert as Senior Vice President of Technology.
Ms. Giralt joins AerNos as a former executive of Hewlett Packard where she was Operations head for the Consumer Printing Business with responsibility for $2 billion in cost of sales. Her team was responsible for manufacturing and supply chain strategy, operational performance, and new product introductions for HP's consumer printer business. Giralt also directed teams responsible for business strategy, design outsourcing and NPI program management. Over 20 years at HP she led initiatives to build high volume manufacturing from startup phase to mature business. She has launched and lead manufacturing operations around the world and as a consultant, helped IoT and consumer electronics startups and medium size companies innovate rapidly, shorten time to market and scale quickly.
Mr. Lambert joins AerNos after 30 years at Intel Corporation, with in-depth experience leading component design teams and cross-functional development engineering organizations. Lambert brings extensive experience building, motivating and managing world class technical teams working to deliver solutions to customers across a wide range of industries including IoT, PC and server, Communications, Industrial and Transportation. He has a deep understanding of the methods and processes needed to deliver results in a fast paced, project execution environment and extensive operational experience in a global high-tech company.
"We are absolutely thrilled to have Andrea and Herve join the AerNos team," said Sundip R. Doshi, AerNos' CEO and Founder. "Their experience building and leading high performance teams and bringing new products to market, at two of the world's top technology companies, will enhance our ability to scale our business and meet the growing demand for our breakthrough sensors."
"I'm a builder, energized by the excitement and challenge of building an organization from the ground up," said Giralt. "At AerNos I have the opportunity to fully leverage my entrepreneurial drive and my passion for innovation, technology and business strategy. It's incredibly motivating to apply my years of experience towards bringing to market a product that could have such a profound impact on the health and safety of people around the world," Giralt added.
"The technology is novel and exciting and the business opportunity in front of us is enormous," said Lambert. "It's a joy to join the AerNos executive team and to work with such high caliber talent across our multiple disciplines, of materials science, nano engineering and data science. To know that the product you are developing will help create a healthier future is something rare and so incredibly motivating. We have that at AerNos and it brings to the entire organization a real sense of mission."
AerNos nano gas sensors are capable of detecting multiple gases simultaneously to the parts per billion (ppb), creating a platform that can deliver sensors for specific multi-gas applications and positioning the company to meet the needs of a wide range of IoT, Smart City, Smart Home, wearable, mobile and other integration partners.
About AerNos
AerNos, Inc. develops application-specific nano gas sensors based on its breakthrough and proprietary AerCNT Technology to detect harmful gases in the environment. AerNos nano gas sensors are designed to be easily integrated into consumer and commercial product lines such as standalone monitoring devices, non-stationary devices (drones, industrial robots, construction equipment, etc.), modes of transportation, wearables, smartphones, and the IoT. For more information, please visit http://www.AerNos.com. You may also contact us at media(at)AerNos.com.