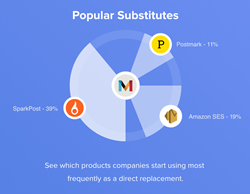 The question we want to answer is 'When a company stops using a product, what's most likely to be used as a replacement?'
SAN FRANCISCO (PRWEB) October 26, 2017
Siftery today announced the launch of their Product Alternatives search. The web service makes it easier for business users to find popular alternatives from its database of over 40,000 B2B software products.
In addition to a ranked list of alternatives, the service taps into Siftery's data on what hundreds of companies are using and deduces actual switching patterns and product replacements.
"The question we want to answer is 'When a company stops using a product, what's most likely to be used as a replacement?'" said Balachandar Ganesh, Data Lead at Siftery.
The inititial substitues data includes calculations for almost 1,000 products including Mandrill, Amazon EC2, Inspectlet, Intercom, WordPress, Lever, Zendesk, and iCIMS.
Some sample insights from this data:

Google Cloud Compute is the leading substitute for AWS EC2
In the Recruiting/ATS space, Greenhouse and Lever are each other's most significant competitor. Meanwhile, companies looking to replace iCIMS by far most frequently end up using Oracle Taleo (and vice versa). 
In many categories, including Recruiting/ATS, company size and employee count is highly predictive of which products they'll consider and we can see a progression as companies grow out of services catering to SMBs to more fully-featured alternatives.
"While we're building a best-in-class dataset of B2B software products and the companies that use them, what's even more interesting to us is building tools and intelligence like this which can help more businesses find the best software for their unique needs," said Ayan Barua, CTO at Siftery.
To see the product alternatives search and data, visit: https://siftery.com/alternatives