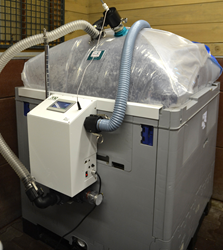 "The GOfermentor provides better control of fermentation parameters, minimal exposure to air, and automated cap management, thereby producing better extraction, better color and ultimately better quality wine. Our goal is better quality wine." says Dr Vijay Singh co-owner of the GOfermentor
FAR HILLS, N.J. (PRWEB) October 21, 2017
The GOfermentor®, a revolutionary new technology for winemaking, features a patented dual-chamber single-use plastic liner that requires no washing, saving water, time, and labor. The automated punch mechanism extracts more color and body from the grapes without any human effort needed. The wine can be gently pressed out using the integral press. This may eliminate the need to purchase and operate an external press.
We will donate the equipment, all you need to buy are the disposable bags that you use. Each GOfermentor can handle up to 1 ton of grapes per batch. There is no set-up, or plumbing required. You can be up and running in hours.
"It's important for us to make quality wines sustainably," said Dr. Vijay Singh, designer and co-owner of GOfermentor®. "That's why our GOfermentor® system could revolutionize the way wine is fermented and produced with minimal waste."
The patented GOfermentor technology was tested in 2014 in 16 wineries in the USA, Spain, and Australia with overwhelmingly positive results. Rental units were offered in the 2015 season and many improvements were made based on user experiences. With the technology now proven, commercial GOfermentors were made available for sale in 2016 and a number are now in commercial winery operation in the USA, Spain, and Italy. Many red varietals have been studied - Tempranillo, Mencia, Cabernet Sauvignon, Cabernet Franc, Merlot, Foch, Petite Syrah, Grenache noir, Pinot noir, and others. Also, whites such as Sauvignon blanc and Chardonnay. Winemakers responded enthusiastically to the ease of installation – the GOfermentor® can be set up in just a few minutes – and the automated punchdown was one of the most popular features. The sanitary aspect of the single-use liner was popular with testers, particularly because it eliminates washing. The integral press was used by many wineries and gave good results.
The GOfermentor® utilizes a closed system which helps protect against insects and contamination. The GOfermentor® prevents air from contacting the wine, minimizing the need for sulfite additions. Overall, the fermentation parameters in the GOfermentor® were similar to those observed in conventional fermentors. Tasting panels and winemakers rated the wines made in the GOfermentor® as better than those made using conventional technology, with comments such as fruitier, fresher, and softer mouthfeel. This was achieved at a fraction of the cost and labor required using traditional fermentors. The trial done at VITEC in Spain and University of Torino in Italy provided the most comprehensive data with varietals run side-by-side with control fermentations.
"The GOfermentor® can consistently make wine of better quality than traditional technology," said Meera Singh, sommelier and co owner of GOfermentor®. For more details on the technology and the free offer please visit their website here.
About GOfermentor
The GOfermentor® brings 21st century technology, developed originally for the manufacture of pharmaceuticals, to modern winemaking. This technology dramatically reduces the capital and operating cost for a winery. No cleaning is required. The GOfermentor provides better control of fermentation parameters, minimal exposure to air, and automated cap management, thereby producing better extraction, better color and ultimately better quality wine. Our goal is better quality wine.
http://www.GOfermentor.com
sales(at)GOfermentor(dot)com
(877) 377 5359