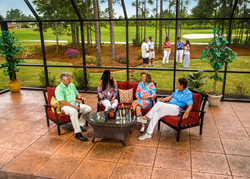 Southeastern North Carolina's Largest Single-Site New Home Showcase
WILMINGTON, N.C. (PRWEB) October 20, 2017
As the crisp fall weather begins to roll south towards the coast of North Carolina, it's creating a fabulous time to be outside according to Real Estate Scorecard. When pumpkin patches, apple harvests and chocolate Trick or Treat wishes make everyone smile. At the end of this month, one of Wilmington's leading active retirement communities is kicking off the season with exciting outdoor neighborhood event. The Compass Pointe Wilmington HomeFest is a weekend long celebration of family activities that include a 5K fun run, golf tournament and street fair.
Falling the weekend before Halloween, the 'spooky' theme is a thrilling opportunity to tour 8 new homes built by the finest Wilmington custom home builders. Compass Pointe is a resort-theme gated community spread across 2,200 acres. Amenities at the Wilmington NC real estate development include a new championship semi-private golf course 10,000 square foot Grand Lanai entertainment facility, an Olympic-size swimming pool, tennis and pickleball courts, modern fitness center and sparkling fresh water lakes. Folks love living here so much Compass Pointe is on the short list Happiest Communities in America, a list complied by Real Estate Scorecard. Property owners score the satisfaction level a whomping 98 out of 100.
This year's Wilmington HomeFest event is also a fundraising event to benefit The Harrelson Center. The Harrelson Center is a nonprofit campus that supports and partners with other nonprofit organizations in the Wilmington community to provide centralized humanitarian services. The Center also runs the Help Hub, a collaborative outreach program that provides short term or emergency assistance to individuals and families in need.
Here's what to expect during the upcoming Compass Pointe event:
Thursday October 26th 9:00am - L.A. Golf Tournament on North Carolina's Newest Golf Course
Happy Halloween – Arrgh. Come Have Some "Pirate Fun" at Compass Pointe.
The North Brunswick Chamber of Commerce 2017 L.A. Open Golf Tournament have partnered with The Wilmington-Cape Fear Home Builders Association for HomeFest…Southeastern North Carolina's largest single-site new home showcase, a collection of eight homes at Compass Pointe built by the finest custom home builders. The Rick Robbins designed golf course opened on June 11, 2017 and is the talk of the town.
The golf course design features wide and fast fairways; large undulating Champion Bermuda greens; and picturesque, native Carolina landscaping which creates an exceptional golf experience. The flexibility of design allows golfers to choose a set of tees that suits their game. This includes a set of "Family Tees" that are great for juniors, older players and that special "social" golf experience. Tickets are $150 per player. Contact North Brunswick Chamber of Commerce at (910) 383-0553 with questions.
Friday October 27th 6:30pm - Hocus Pocus 5K & Monster Mile Fun Run
This is a once in a lifetime chance to run through the beautiful Wilmington NC real estate development during the Hocus Pocus 5K. This evening run will traverse through the beautiful secluded private community of Compass Pointe, and include "spooky" parts along the way. There is something for everyone as they will also host a Monster Mile Run for the kids. Costumes are encouraged. Awards will be provided for the Top 3 in all three categories.
Saturday & Sunday October 28-29 11:00am-4:00pm

Street Fair showcasing goods and services
-Playhouse Raffle - custom kid's playhouse designed exclusively for HomeFest, Est. Value $1,500
-New Home Showcase - discover eight new homes from Southeastern North Carolina's premier builders in order by square foot price:
1) VALENCIA II BY LOGAN HOMES - Tropics Home Collection (Logan Homes has biggest bang for the buck!)
Address: 8748 Maple Ash Trail
$646,390 | 4,815 sq. ft. | 3 Bedrooms, 4 Baths (square foot price $134)
2) SEA ISLAND BY HORIZON HOMES OF WILMINGTON LLC
Address: 8539 Robbins Walker Place
$549,000 | 3,952 sq. ft. | 4 Bedrooms, 3 Baths (square foot price $138)
3) THE ISABELLA BY LEGACY HOMES BY BILL CLARK
Address: 8721 Maple Ash Trail
$399,900 | 2,372 sq. ft. | 3 Bedrooms, 3 Baths (square foot price $168)
4) THE BISCAYNE II BY LIBERTY HOMES
Address: 8555 Robbins Walker Place
$598,675 | 3,424 sq. ft. | 3 Bedrooms, 3 Baths (square foot price $174)
5) WYATT BY TRUSST BUILDER GROUP, LLC
Address: 8551 Robbins Walker Place
$514,500 | 2,851 sq. ft. | 4 Bedrooms, 3 Baths (square foot price $180)
6) THE CAYMAN BY COASTAL LUXURY HOMES, LLC
Address: 2432 Red Birch Trail, NE
$429,500 | 2,372 sq. ft. | 3 Bedrooms, 2 Baths (square foot price $181)
7) SHACKLEFORD BANKS BY HAGOOD HOMES, INC.
Address: 2385 Red Birch Trail NE
$458,334 | 2,416 sq. ft. | 3 Bedrooms, 3 Baths (square foot price $189)
8) SOMERSET BY CHARTER BUILDING GROUP
Address: 8559 Robbins Walker Place
$529,900 | 2,713 sq. ft. | 3 Bedrooms, 3.5 Baths (square foot price $195)
Westlake Preserve is the newest enclave of premier nature and water homesites. If living in close proximity to golf, Latitudes restaurant, the new gated entrance, and future shopping are on the wish list, then ask for more details about Westlake Preserve, Compass Pointe's newest neighborhood.
Contact Compass Pointe directly at 888.717.6468 to check on Discovery Package availability.
About Real Estate Scorecard:
Real Estate Scorecard writes unbiased real estate reviews providing in-depth information about popular gated communities in Florida, Georgia, the Carolinas and Tennessee and Central America, all in an effort to help people discover where to retire in the South.
Website: http://realestatescorecard.com