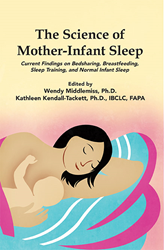 Praeclarus Press offers resources that promote safe mother-infant sleep.
Amarillo, TX (PRWEB) October 21, 2017
Many exhausted new parents sleep with their babies for at least part of the night, even when health care providers tell them not to. Some of these sleep practices, such as falling asleep with a baby on a recliner or sofa, are dangerous and increase the risk of SIDS. For example, in one study, sleeping with a baby on a couch or recliner increased the rate of SIDS by 67 times. Praeclarus Press offers a number of resources that help mothers and babies sleep safely and lower their risk of SIDS. Praeclarus offers handouts for parents on safe infant sleep, and webinars with mother-baby sleep experts. Praeclarus Press also published a book, The Science of Mother-Infant Sleep, a compilation of articles by an international working group of experts in mother-infant sleep.
Breastfeeding and SIDS is another important issue. Breastfeeding is more likely to continue when mothers sleep with their babies, at least part of the night. Breastfeeding also decreases the risk of SIDS by 50%. This presents an interesting public-health conundrum. Should professionals tell families not to bed-share when those who follow that advice may stop breastfeeding, which also increases the risk of SIDS? This conundrum is also addressed in the The Science of Mother-Infant Sleep.
Dr. Kathleen Kendall-Tackett, founder of Praeclarus Press, is the lead investigator on the Survey of Mothers' Sleep and Fatigue, a survey of 6,410 mothers from 59 countries. This study identified some of parents' unsafe sleep practices and led to changes in health organization polices. Mother-infant bed-sharing can be safe if certain conditions are met. Parents need to know what those are.
Praeclarus Press is a small press specializing in women's health. Mother-infant sleep is a topic of particular interest and Praeclarus Press is pleased to offer these resources to the public in honor of National SIDS Awareness Month.