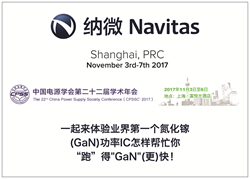 Navitas is enabling next-generation mobile fast chargers and adapters, TV power, EV/Hybrid, LED and new energy solutions.
El Segundo, CA (PRWEB) October 24, 2017
Navitas Semiconductor today announced it will showcase GaN Power IC advances at the China Power Supply Society Conference (CPSSC), in Shanghai, China, November 3rd – 6th, 2017.
"CPSSC is the highlight of the Asian power electronics calendar, with over 450 peer-reviewed technical papers and over 1,000 attendees from industry and academia", noted Navitas CTO/COO, Dan Kinzer. "Chinese engineers truly appreciate the game-changing performance of Navitas' AllGaN™ platform and are extremely engaged in adopting the GaN Power ICs".
"As a sponsor of CPSSC, with industry presentations and live demonstrations of the world's first GaN Power ICs, Navitas once again shows commitment to bringing AllGaN™ technology to Chinese customers." said Gene Sheridan, Navitas CEO. "Navitas is enabling next-generation mobile fast chargers and adapters, TV power, EV/Hybrid, LED and new energy solutions"
The conference and exhibition will be held at the Shanghai Fu Yue Hotel, Songjiang District, Shanghai, from November 3rd – 6th, 2017.
Navitas will present in the following conference papers / events:
Saturday November 4th at 13:40
Introduction to the Power Sources Manufacturers' Association (PSMA) and the Power Technology Roadmap 2017
Stephen Oliver (as President of the PSMA)
Sunday November 5th at 9:00
IS5.1.2 "Speed = Performance: GaN Power ICs Enable Power Supply Revolution"
Stephen Oliver, Navitas VP Sales & Marketing
"650V GaN has 100x faster switching than Si, enables up to 10x higher converter switching frequency and now, easy-to-use GaN Power ICs (monolithically-integrated GaN FET, GaN driver, GaN logic) mean faster designs and faster time-to-market. Simultaneous higher-frequency and higher efficiency means increased power density and lower system cost. Today, with AllGaN™ Power ICs, new high-frequency magnetic materials, new control ICs and soft-switching topologies, there is a revolution in AC-DC converter performance."
Sunday November 5th at 15:45
CPSS and PSMA Joint Workshop on Power Supply Industry Innovation
"High-Frequency Eco-System Drives New Applications, New Solutions"
Stephen Oliver (as President of the PSMA)
"The consumer market demands high-performance (high efficiency, small size, fast time-to-market) while changing specifications (e.g. Euro CoC Tier 2, USB Type-C / PD, Quick Charge, etc.) and always with constant cost pressure. A new eco-system of high-frequency semiconductor powertrains, controllers, capacitors and magnetic materials has emerged to meet this challenge. In addition, the new materials are the catalyst for new topologies and emerging markets and applications."
Exhibition hours with live GaN Power IC demonstrations at the Navitas booth:
Saturday November 4th 8:00-18:00
Sunday November 5th 8:00-18:30
About Navitas: Navitas Semiconductor Inc. is the world's first and only GaN Power IC company, founded in 2013 and based in El Segundo, CA, USA. Navitas has a strong and growing team of power semiconductor industry experts with a combined 200 years of experience in materials, devices, applications, systems and marketing, plus a proven record of innovation with over 200 patents among its founders. The proprietary AllGaN™ process design kit monolithically integrates the highest performance GaN FETs with logic and analog circuits. Navitas GaN Power ICs enable smaller, higher energy efficient and lower cost power for mobile, consumer, enterprise and new energy markets. Over 30 Navitas patents are granted or pending.
###
Navitas Semiconductor and the Navitas logo are trademarks or registered trademarks of Navitas Semiconductor, Inc. All other brands, product names and marks are or may be trademarks or registered trademarks used to identify products or services of their respective owners.