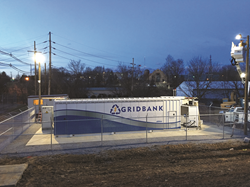 The GridBank, using Alevo's breakthrough inorganic lithium electrolyte in its batteries, features robust technology that received a 98.52% score from PJM's Performance Compliance Department
CONCORD, N.C. (PRWEB) October 26, 2017
Alevo, the energy storage company, today announced is highest score yet from its 2MW GridBank® energy storage unit in Hagerstown MD. The GridBank, using Alevo's breakthrough inorganic lithium electrolyte in its batteries, features robust technology that received a 98.52% score from PJM's Performance Compliance Department in advance of re-commencing service at the full 2MW by 20 October.
"We are very pleased to receive this performance score from PJM today," said Peter Heintzelman, Alevo CEO. "PJM Reg D Frequency Regulation has one of the toughest signals and multi-cycle duty requirements in the battery industry, and thus has traditional lithium-Ion units struggling to achieve adequate performance. Given our 99% availability and superior performance scores in previous operation, we knew our GridBanks would meet the challenge of the PJM signal. Still, it's nice to get this test result as confirmation and I am proud of our team and our partners. I'd also like to acknowledge Parker Hannifin. Parker provided the power conversion and thermal management control systems for this GridBank project. They have been providing support from the beginning and we'd like to thank them for their efforts."
ABOUT ALEVO - Alevo is the producer of GridBank® Energy Storage Systems, featuring Alevolyte®, a revolutionary electrolyte technology that is non-flammable, extremely robust, and tested at over 50,000 fully discharged cycles.
ABOUT PARKER HANNIFIN
Parker Hannifin is a Fortune 250 global leader in motion and control technologies. For 100 years the company has engineered the success of its customers in a wide range of diversified industrial and aerospace markets. Parker has increased its annual dividend per share paid to shareholders for 61 consecutive fiscal years, among the top five longest-running dividend-increase records in the S&P 500 index. Learn more at http://www.parker.com or @parkerhannifin.