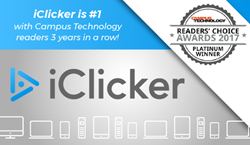 We are proud that educators and administrators continue to value the ongoing dedication to innovation that is a part of iClicker's DNA. - Craig Bleyer, iClicker General Manager
NEW YORK (PRWEB) October 23, 2017
iClicker, the global leader in student response systems, was chosen as the Campus Technology Readers' Choice Platinum Award winner in the student response and classroom engagement category for the third consecutive year. Campus Technology readers vote annually on their favorite education technologies and again chose to bestow iClicker with the highest honor in the student response category.
iClicker provides elegant technology solutions for instructors seeking to promote active learning in the classroom. Founded by four physicists from the University of Illinois -Tim Stelzer, Mats Selen, Gary Gladding, and Benny Brown - iClicker engages students by giving every student a voice, helping students focus on tough concepts, and creating connections amongst members of the class.
"With iClicker, each student in my 300+ enrollment class has a voice in class discussions, a vote for the correct answer to lecture questions, and a way to share their opinions on a variety of lecture topics, said University of Louisville professor Edna Ross. "iClicker allows each student to connect with me, the instructor; with the course content; and, most importantly, with each other. I can't imagine teaching a course without using iClicker!"
Used by over 1100 institutions across the globe, iClicker offers a variety of engagement solutions--including hardware, mobile, and hybrid options. "We are proud that educators and administrators continue to value the ongoing dedication to innovation that is a part of iClicker's DNA," said iClicker General Manager, Craig Bleyer. "Our best feature ideas come from our user community. From providing easy engagement both via the iClicker remotes or the iClicker Reef app, to the recent launch of our GPS attendance feature this fall, we are committed to delivering solutions that support real-time student engagement. We are elated that faculty and administrators continue to recognize iClicker as the preferred solution for student response systems & classroom engagement technologies."
For more information about iClicker, visit https://www1.iclicker.com.
About iClicker:
iClicker was built by educators, for educators with the goal of keeping students focused on course content and critical thinking, not technology. iClicker, which facilitates active learning through either iClicker remotes or iClicker's Reef mobile app, remains the most widely used student response system in North American higher education, used by more than seven million students. iClicker's student response solutions continue to be recognized for their superior ease-of-use, reliability, and focus on formative assessment and pedagogy. Today, iClicker is powered by flexibility--giving professors the choice to engage students solely with iClicker remotes, solely with the iClicker Reef mobile apps, or to adopt a blended approach of mixed mobile and conventional remotes in their classrooms.
About Macmillan Learning:
Macmillan Learning improves lives through learning. Our legacy of excellence in education informs our approach to developing world-class content with pioneering, interactive tools. Through deep partnership with the world's best researchers, educators, administrators, and developers, we facilitate teaching and learning opportunities that spark student engagement and improve outcomes. We provide educators with tailored solutions designed to inspire curiosity and measure progress. Our commitment to teaching and discovery upholds our mission to improve lives through learning. Macmillan Learning includes both academic and institutional divisions. To learn more, please visit http://www.macmillanlearning.com or see us on Facebook, Twitter, LinkedIN or join our Macmillan Community.