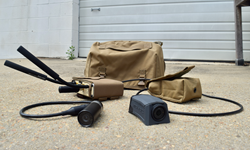 NTtv has significantly increased individual performance and decreased their training time.
Philadelphia (PRWEB) October 23, 2017
It is a proven fact video recordings can reveal improvements or losses in one's performance over time. It also is an invaluable tool in the diagnosis of a unit's overall training program.
This is exactly why athletic coaches at all levels utilize video recordings of performance to provide their athletes instant feedback, correction, and refinement.
Kopis Mobile will be in booth 1157 at the International Association of Chiefs of Police Conference 2017 in Philadelphia, Pennsylvania, October 21-24.
Networked Tactical tv (NTtv) is a first person, mobile video sharing system that allows the training officer to simply swipe the screen of their smart device to view different video streams in real time. The system also allows them to record up to 30 hours of video for use in after action reviews of real world operations or training evolutions. It is compatible with a wide variety of cameras to include commercial action cameras, thermal, IR and the MOHOC® wireless tactical camera. (https://kopismobile.com/products/nttv/)
NTtv is very configurable, simple to use, exceptionally mobile and very cost effective compared to the other expensive, less capable systems currently available.
NTtv now also includes a multiple DVR (mvDVR) (https://kopismobile.com/mvdvr/) feature that adds the ability to instantly review multiple synchronized camera views of the same action without having to go through hours of recorded video to find what you are really looking for. This vastly speeds up the after-action review process and provides immediate feedback using video angles that matter for each training evolution.
"Our First Responder customers have told us, NTtv has significantly increased individual performance and decreased their training time. In our continued efforts to support First Responder communities, we would like meet with you to discuss ways to make your daily job easier", said Hugh Middleton, Vice President of Kopis Mobile.
Kopis Mobile specializes in designing and manufacturing custom apps and app-enabled electronics, backed with a thorough understanding of current threats to military and law enforcement operations. Kopis Mobile has driven the creation of multiple custom apps and app-enabled electronics equipment for the Department of Defense, law enforcement and private security markets since 2013.
A former Naval Special Warfare Operator and a group of talented engineers founded Kopis Mobile with in-depth knowledge of tactical operations, mobile devices, electronics, software and mechanical engineering. The founders all share a focused vision of enabling technology that directly impacts the warfighter and first responder on the ground by making them more efficient in a cost effective way.
See how...
Improved Training https://youtu.be/Ii8ob9QpkKU
Lower Training Cost https://youtu.be/cwWHGwauxJM