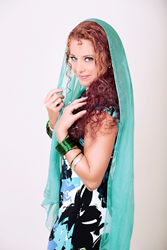 NEWARK, Del. (PRWEB) October 20, 2017
Barbara Anne Rose is a compassionate woman who enjoys focusing on the mind, body, soul and Spirit of her clients to overcome hurdles and complications in one's life. Not only does she work with clients in the aspect of life relationships and mentoring, she provides massage therapy, her Divine Touch similar to tantra, and weekend retreats to help you take a step back from the real world and focus on the goals you wish to accomplish.
In collaboration with All Business Media FM, Ms. Rose professionally accomplished an hour-long TV show special that will air on Tuesday, October 24th, 2017 at 1:30 p.m. EST on the following channels: Spirit Channel on MNN Channel 35, FIOS channel 84 on RCN, and channel 1997 on Spectrum.
During her TV show special, Ms. Rose will be discussing the wide array of services she offers at Spiritual and Emotional Healing. After attending the Dowell Institute of Theological Seminary, the Academy of Massage and Bodyworks and NPTI: National Personal Training Institute, Ms. Rose is successfully a Dr. of Christian Counseling and Christian Coach as well as a licensed massage therapist, personal trainer, nutrition consultant and a strategic intervention coach.
With her skill-set and determination, she overcame horrific experiences that she went through in both her childhood and adulthood and how they brought her to the peaceful place she is today. She will be sharing with viewers testimonials of people she has worked with: including business owners, CEOs, pastors, sexual abuse victims, moms, and much more. As a positive and uplifting woman, Ms. Rose's invigorating and Spiritual energy has helped many people overcome an array of problems in their lives, in which they are grateful for her.
Remember to watch the Spirit Channel on MNN Channel 35, FIOS channel 84 on RCN, and channel 1997 on Spectrum for an hour-long TV show special hosted by All Business Media FM with Barbara Anne Rose on Tuesday, October 24th, 2017 at 1:30 p.m. EST. For additional information on Ms. Rose, please visit http://www.TheSpaceBetweenTheThorns.com.
You can also check out Ms. Rose's streaming LIVE photo in Times Square, NYC on Friday, October 27th, 2017 from 6 a.m. to 10 p.m., which is hosted by Strathmore's Who's Who Worldwide.
###
As experts gather together and empower the minds all over the world, All Business Media FM is there to encourage individuals to be leading professionals and succeed. Be sure to visit http://www.AllBusinessMediaFM.com where additional information on All Business Media FM can be found. For all media inquiries or for interviews, please contact admin@allbusinessmedia.com.