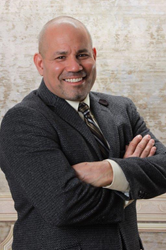 Inlanta Mortgage Regional Vice President Brian Jensen said, "We are excited to have Roland as part of the Inlanta Team. His years of experience make him an excellent addition to the company and we look forward to his help in achieving our growth plans."
Pewaukee, WI (PRWEB) October 20, 2017
Gomez comes to Inlanta with over 23 years of combined experience in real estate sales and residential mortgage lending. During his real estate sales career, he personally sold one home every seven days before moving to the mortgage industry in 2001.
Since beginning his mortgage career, he has originated loans, implemented systems, and, most recently, co-owned and served as President of a small mortgage banker in the south suburbs of Chicago where he had oversight of up to 141 employees. Gomez was ranked one of the Top 76 FHA Loan Originators in the country in 2008, and he continues to primarily originate government-backed loans. This fuels his tenacity and commitment in his never-ending drive to deliver the dream of homeownership to those who seek it.
Inlanta Mortgage Regional Vice President Brian Jensen said, "We are excited to have Roland as part of the Inlanta Team. His years of experience make him an excellent addition to the company and we look forward to his help in achieving our growth plans."
The new Palos Heights branch is located at 11845 Southwest Hwy, Suite 7, Palos Heights, IL 60463. Roland Gomez can be reached at 708-372-4202 or rolandgomez(at)inlanta(dot)com. Gomez is also joined by Jay Beaton, Certified Mortgage Planning Specialist, and Lucy Perez, Loan Officer Assistant.
About Inlanta Mortgage
Headquartered in Pewaukee, WI, Inlanta Mortgage was established in 1993. The company has grown to over 40 branches in 20 states and over 250 employees. Inlanta Mortgage's mission is to be the home financing partner that you trust to serve your family, friends, and community. Their team of dedicated mortgage professionals is committed to delivering an exceptional experience using honest and ethical lending practices.
Inlanta Mortgage was named a Milwaukee Journal Sentinel Top Workplace in 2014, 2015, and 2016. Inlanta has been consistently recognized as one of the "50 Best Mortgage Companies to Work For" by Mortgage Executive Magazine and one of the country's "Top Mortgage Employers" by National Mortgage Professional.
Inlanta Mortgage continually seeks branch managers and loan officers who want to grow their business. To learn about growth opportunities, please contact David Williams (Colorado and Texas) at davidwilliams(at)inlanta(dot)com or 303-947-1960; Brian Jensen (Midwest) at brianjensen(at)inlanta(dot)com or 630-927-0380; or Kevin Laffey (Kansas, Missouri, and Iowa) at kevinlaffey(at)inlanta(dot)com or 913-645-4647. To learn about opportunities in other locations, visit http://www.inlantapartners.com, call 262-439-4260, or email partners(at)inlanta(dot)com.
Inlanta Mortgage, Inc. NMLS #1016. Roland Gomez, NMLS #133724. Jay Beaton, NMLS #1280764.