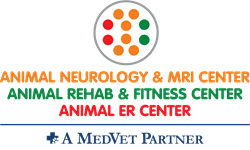 Dr. Michael Wolf, neurologist and ANC founder said, "Our partnership with MedVet best positions us to deliver the highest quality, most compassionate specialty and emergency veterinary care; today, and long into the future."
COLUMBUS, Ohio (PRWEB) October 20, 2017
MedVet Medical & Cancer Centers for Pets (MedVet) is pleased to announce its expansion into Michigan with the addition of the Animal Neurology & MRI Center (ANC), located in Commerce, MI.
"Adding ANC to the MedVet network fuses the strength, expertise, and reputation of two highly-respected emergency and specialty healthcare providers," said MedVet President and CEO, Dr. Eric Schertel. "By coming together, we create an exciting opportunity to advance our mission of leading specialty healthcare for pets while continuing to deliver exceptional care and service to our patients, clients, and referral partners."
"Area veterinarians and pet owners have trusted the Animal Neurology & MRI Center to provide top-quality, compassionate emergency and specialty care for their pets since 2002," said Dr. Michael Wolf, neurologist and ANC founder. "Our partnership with MedVet best positions us to deliver the highest quality, most compassionate specialty and emergency veterinary care; today, and long into the future."
MedVet currently operates a network of emergency and specialty medical centers in Ohio, Indiana, Illinois, Kentucky, Louisiana, Alabama, and Texas. This partnership extends the MedVet network further into the Midwest and introduces the MedVet Experience to Michigan. For the immediate future, ANC will maintain its brand name and market identity, while continuing to deliver consistent quality care with compassion and excellence its referring vets, clients and patients have known since ANC's inception.
About MedVet Medical & Cancer Centers for Pets (MedVet):
Veterinary led and employee owned, MedVet is a growing network of 20 emergency and specialty animal hospitals nationally-recognized for delivering exceptional care and service to patients, clients, and referral partners. MedVet was named the American Animal Hospital Association (AAHA) Accredited Referral Practice of the Year for 2014 and 2016 and is the only veterinary healthcare organization to receive this award twice. For more information about MedVet, visit medvetforpets.com.
About Animal Neurology & MRI Center:
Located in Commerce, MI, Animal Neurology & MRI Center (ANC) is an AAHA-accredited, three-center pet facility providing separate neurology, emergency, and rehabilitation services for dogs and cats of Michigan from one state-of-the-art location. Staffed with board-certified neurologists, emergency veterinarians, and rehabilitation specialists available 24/7, the centers combine comprehensive diagnostics with expert treatment to provide the highest quality care to pets with neurological diseases, emergency medical conditions, and physical rehabilitation needs. For more information, visit animalneurology.com.