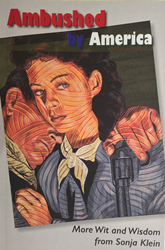 Ambush Hill, Texas (PRWEB) October 20, 2017
Sonja Klein will travel to the ends of the earth for a good story and a first-hand peek into unusual cultures. This time Klein, who's been called the West Texas Jack Kerouac, is on the road again in one of the most exotic locales of all—the good old U.S. of A. Get ready for another wild ride. Ambushed by America: More Wit and Wisdom from Sonja Klein is a Klein's-eye view of life, love and lobster from the Gulf of Mexico to the shores of Alaska.
The irrepressible Ms. Klein—three books, four marriages—whose previous collections of essays, Honk if You Married Sonja and Roundtrip from Texas chronicled her voyages from Uruguay to Zanzibar, is one of the world's most enjoyable tour guides. Travel with Sonja—up and down Route 83, the spine of middle America in this case—and you'll not only learn that a few miles past Mt. Rushmore there's an unfinished monument that's even larger, you'll also get a heaping dose of Klein's special magic: her witty, ironic, and refreshingly honest take on . . . well, just about everything. From what language people should speak in America to how to avoid losing in Vegas (hint: don't gamble), Klein's smart, funny opinions—on everything from hats to the pitfalls of romance—are 90% of what makes a ride with Sonja such a good time.
Ambushed by America is made all the more interesting by a charming tinge of bittersweet that seems to be arising in Klein's already dimensionalized writing. Musings on aging, sickness, and mortality add a layer to Ambushed by America that speaks to Klein's ripening into a first-rate commentator about the human condition.
Which is not to say, for a moment, that she's lost one bit of her grit. Sonja Klein is still the same dynamic West Texas powerhouse she's always been, just as likely to be trapping wild boars on her ranch as sampling the fare of Alaska's Inuit culture. Home base is Ambush Hill, Klein's ranch sixty miles from anywhere in the West Texas hill country. The ranch—and Klein's evident love for the land—grounds her travels in a deep foundation of family, hard work, and rootedness that makes Ambushed by America as edifying as it is entertaining.
What's on the itinerary this time? Vegas, the Great Lakes, Alaska, the Pacific Northwest, Santa Fe, and Boston. And, oh yes, a stop off in Colorado for some primo weed at one of the state's newly legalized marijuana stores. (Be sure to read what happens to her paranoid traveling companion).
Whether treating us to a Cajun repast on the bayou or regaling us with her views about gun control (don't get her started), a road trip with Sonja Klein is a truly unforgettable experience that stokes your sense of wanderlust—while insidiously making you long to hit the road with her again—wherever she chooses to travel.
Sonja Rose Klein is a fifth-generation Texan and graduate of The University of Texas. She is the author of Honk if You Married Sonja, Roundtrip from Texas, and Ambushed by America. When not traveling (and often during), she writes poetry, essays, and short stories. She lives on Ambush Hill Ranch in southwest Texas and knows her way around a shot gun.
For more information, please visit http://www.sonjaroseklein.com/new-book-2017/.
Media contact: Victor Gulotta
Gulotta Communications, Inc.
617-630-9286
http://www.booktours.com
victor(at)booktours(dot)com