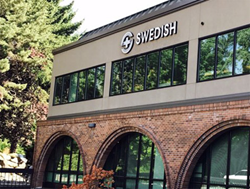 Patients, providers and staff wear lightweight locator badges that enable staff to know where patients are, how long they've been waiting, who has seen them, and who needs to see them next.
TRAVERSE CITY, Mich. and DAYTON, Ohio (PRWEB) October 24, 2017
Swedish Bellevue Primary Care, in Bellevue, Wash., went live with Versus Advantages™ Clinic patient flow solution, joining its nearby primary care sister clinics at Renton and Richmond Beach to improve the patient experience by sharing wait times and provider availability across locations. The Swedish Musculoskeletal Services Clinic in Renton also utilizes the Advantages Clinic solution to streamline patient flow.
Versus Advantages uses real-time locating system (RTLS) technology to analyze patient flow and share up-to-the-moment visibility to current operations at all three primary care clinics. With staff often rotating between locations, this visibility to provider availability and patient wait times is a key element that helps the Swedish clinics manage fluctuating patient volumes.
Patients, providers and staff wear lightweight locator badges that automatically update the Versus software, enabling staff to know where patients are, how long they've been waiting, who has seen them, and who needs to see them next. This real-time data, presented on automatically updated electronic white boards, allows clinic managers to adjust resources to accommodate patient volumes or direct patients to another location.
In addition to real-time operational data that supports workflow efficiencies in the moment, Advantages Clinic also captures an enormous amount of historical data. Using the Versus Reports Plus™ Analytics software, practice administrators can examine all aspects of a patient's appointment, both individually and in aggregate, including overall wait times and the amount of time spent with the provider. This retrospective insight provides evidence to support ongoing improvement efforts.
No matter which clinic patients visit, Versus is helping Swedish standardize workflow and deliver a positive "Swedish Experience," all while providing staff with the ability to compare and share operational performance data across locations.
The Renton, Richmond Beach and Musculoskeletal Services clinics started utilizing the Advantages patient flow solution last year. Administrators at those locations were pleased with the solution's performance and sought to expand functionality to Bellevue. The three primary care clinics follow similar workflow processes and share a common server, resulting in a seamless expansion from clinic to clinic. Swedish is serviced locally by ATS Facility Systems, a certified Versus System Integrator located in Seattle, Wash.
Five other facilities affiliated with Swedish also use Versus: three Pacific Medical Centers clinics and two Providence Health & Services clinics, all serving the Pacific Northwest.
Real-time patient flow information and reporting require highly accurate location data. In a 2016 report from the healthcare research firm KLAS, Versus received the highest rating among RTLS vendors that provide both hardware and software. Versus also received the highest rating for location accuracy, as well as for many other categories.1 For more on the KLAS report, visit versustech.com/KLAS.
Midmark Corporation acquired Versus Technology, Inc. in May, 2016, creating a unique offering of clinical workflow solutions that encompass clinical workflow services, RTLS technology, medical equipment, diagnostic devices and design assistance for improved efficiency within health systems.
1 Source: "Real-time Location Systems (RTLS) 2016," July 2016. © 2016 KLAS Enterprises, LLC. All rights reserved. http://www.KLASresearch.com.
About Swedish Medical Group
Founded in 1910, Swedish is the largest non-profit health provider in the Greater Seattle area. It is comprised of five hospital campuses (First Hill, Cherry Hill, Ballard, Edmonds and Issaquah); ambulatory care centers in Redmond and Mill Creek; and a network of more than 183 primary care and specialty-care clinics located throughout the Greater Puget Sound area. In addition to general medical and surgical care including robotic-assisted surgery, Swedish is known as a regional referral center, providing specialized treatment in areas such as cardiovascular care, cancer care, neuroscience, orthopedics, high-risk obstetrics, pediatric specialties, organ transplantation and clinical research. In 2016, Swedish provided more than $247 million in community benefit programs, including $21.6 million in free and discounted care in Western Washington. For more information, visit http://www.swedish.org.
About ATS Facility Systems
Established in 1986, ATS provides facility system contracting services, including engineering, installation, integration and service of RTLS Systems, fire, audio, security, wireless phones, Nurse Call and controls systems. Its service and construction territory includes Washington, Wyoming, Idaho, Oregon, Alaska, Colorado and Montana. Today ATS employs over 340 employees in the US. For more information, visit http://atsfacilitysystems.com.
About Versus Technology, Inc.
Versus Technology, Inc., a Midmark company, provides healthcare facilities with operational and clinical workflow intelligence using real-time locating system (RTLS) technology. Since its inception in 1988, more than 850 hospitals, clinics and senior care facilities have used Versus solutions to support healthcare's ultimate goals: enhancing the patient experience while providing high-quality care at lower costs. With enterprise solutions for patient tracking, workflow automation, staff safety, hand hygiene and asset tracking, Versus improves patient flow, communication, and productivity to ultimately increase capacity. To learn more about Versus Technology, Inc., our technology and client successes, visit versustech.com.
About Midmark
Midmark Corporation, a privately held company founded in 1915, is a leading provider of medical, dental and veterinary equipment and technologies. Our more than 1,700 teammates worldwide are passionate, courageous leaders focused on making a positive difference in the lives we touch by improving the experience between patients and their caregivers. Headquartered in Dayton, Ohio, Midmark maintains production and administrative offices in Versailles, Ohio, as well as seven other locations in the United States and international subsidiaries in India, Italy and the United Kingdom. To learn more about Midmark, visit midmark.com.
Safe Harbor Provision
This release may include forward-looking statements which "bespeak caution," and which are subject to risks and uncertainties that could cause actual results to differ materially from the forward-looking statements. The statements are made only as of the date of this release, and the Company undertakes no obligation to update them to reflect subsequent events or circumstances.