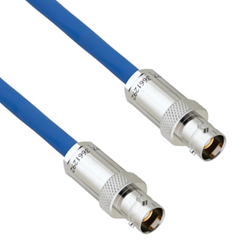 We have released this new cable series to address the growing need for off-the-self LSZH interconnect products in military applications," said Mark Hearn, Product Manager
LEWISVILLE, Texas (PRWEB) October 24, 2017
MilesTek, a leading manufacturer and supplier of products designed to address military and avionics applications, announced today that they have released a new series of MIL-STD-1553B cables assemblies with low-smoke, zero-halogen (LSZH) jackets for use in military and industrial applications.
These new cable assemblies were specifically designed to address confined space connectivity applications. Typically used in poorly ventilated areas, low-smoke zero-halogen cable jackets are very popular with military contractors and in any application where it is critical to protect people and equipment from toxic and corrosive gases in the event of a fire.
To address those applications where LSZH cables are required, MilesTek now stocks 78 Ohm twinaxial and 50 Ohm triaxial LSZH cable assemblies with the following connector combinations: TRB 3-slot plug, blunt end, insulated and non-insulated Bulk Head 3-Lug connectors and more. These cables are available in standard and custom lengths in inch increments.
"Our new LSZH cables were designed to address military applications including use aboard aircraft, land vehicles, seagoing vessels or in confined land-based applications. We have released this new cable series to address the growing need for off-the-self LSZH interconnect products in military applications," said Mark Hearn, Product Manager.
These new MIL-STD-1553B LSZH cables are in stock and available for immediate shipment.
For more information about this release, please contact:
Peter McNeil
MilesTek
17792 Fitch
Irvine, CA
978-682-6936 x1174
About MilesTek:
MilesTek designs and manufactures a broad range of MIL-STD-1553B products to address Military Avionics, Aerospace, Industrial and government applications. In addition to a wide selection of off the shelf products, MilesTek can custom manufacture cable assemblies and harnesses. MilesTek is headquartered in Lewisville, Texas and is AS9100C and ISO9001:2008 certified. MilesTek is an Infinite Electronics company.