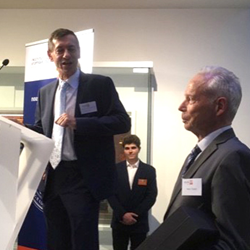 The influence of l'Institut d'Optique is felt around the world.
PARIS, France (PRWEB) October 20, 2017
One hundred years of achievement in light-based technologies were honored by leaders of SPIE, the international society for optics and photonics, and others in the photonics community during centenary celebrations last week at the Institut d'Optique in Paris.
"From your state-of-the-art laboratory, to your top-ranked school of engineering, to your partnerships with industry, the Institut d'Optique is truly a world-class alliance," said Paul Montgomery (Université de Strasbourg), speaking on behalf of SPIE during ceremonies on 13 October.
Montgomery and SPIE Fellow Hans Tiziani (Universität Stuttgart ) — a graduate of the institute — presented a commemorative plaque to institute Director General Jean-Louis Martin on behalf of the society. Montgomery is a General Chair of SPIE Photonics Europe 2018, to be held in Strasbourg next April.
Established in 1917, the Institut d'Optique has grown from a one-year course followed by a few students in the first years, to the promotion of 150 student-engineers on three sites today, in Bordeaux (Le laboratoire Photonique Numérique and Nanosciences), Paris-Saclay (Le laboratoire Charles Fabry), and Saint Etienne (Le laboratoire Hubert Curien/ERIS).
Its mission, established by law in 1920, is to support the French photonics industry through training of scientific engineers, doctoral training, innovation-entrepreneurship, and research at the highest level.
"An impressive number of important advances have resulted from work by students and graduates of l'Institut d'Optique," noted SPIE CEO Eugene Arthurs. "Its influence has been felt around the world, thanks to advances in technology and inventive applications conceived and launched by its graduates and faculty. SPIE events are highly enriched for their participation, and the world benefits from their many contributions to innovation, entrepreneurship, and the advancement of photonics."
About SPIE
SPIE is the international society for optics and photonics, an educational not-for-profit organization founded in 1955 to advance light-based science, engineering, and technology. The Society serves nearly 264,000 constituents from approximately 166 countries, offering conferences and their published proceedings, continuing education, books, journals, and the SPIE Digital Library. In 2016, SPIE provided more than $4 million in support of education and outreach programs. http://www.spie.org