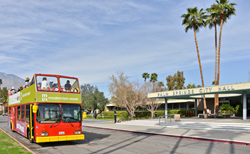 Modernism Week continues to expand the scope and reach of our events and programming.
PALM SPRINGS, Calif. (PRWEB) October 23, 2017
Modernism Week's signature February festival will take place February 15-25, 2018, highlighting midcentury modern architecture, art, interior and landscape design, and vintage culture in the Palm Springs area of Southern California. For the thirteenth year, the annual 11-day festival will feature a wide array of events including the Palm Springs Modernism Show & Sale, tours of iconic homes in more than 23 neighborhoods (including the Signature Home Tour on both weekends), architectural walking, biking and double-decker bus tours, tours of the historic Annenberg Estate at Sunnylands, the Modernism Week Show House: Christopher Kennedy Compound, classic cars, garden tours, a vintage travel trailer exhibition, nightly parties and a special series of talks about Frank Lloyd Wright, Preservation, and Legendary Women of Design. All events are open to the public and tickets go on sale November 1, 2017 at 12 p.m. PST at modernismweek.com. Attendees will be able to preview the events on the website without making purchases starting October 25. A portion of ticket proceeds benefit Modernism Week (a non-profit organization) and other local preservation, neighborhood and community groups. As additional events are finalized they will be added for sale on the website on the first of each month.
"Modernism Week continues to expand the scope and reach of our events and programming," said William Kopelk, Modernism Week Board Chairman. "This year, we will continue that trend by offering new events and educational opportunities while still featuring the beloved favorites that our audience anticipates. We will offer a compelling combination of educational talks and film screenings, exciting tours, and activities throughout the Coachella Valley and beyond. Our returning Modernism Week attendees will be thrilled with the selection of appealing new programs."
Signature Events
One of the highlights of the first weekend includes the annual Modernism Week Opening Night Party on Thursday, February 15, presented by Ferguson Kitchen, Bath & Lighting Gallery. This chic red carpet affair will be teeming with vintage style and authentic swagger as attendees channel their inner Marilyn, Sammy or Hefner, for a night of entertainment, high style and glamour. The popular event will take place at the 1962 Indian Canyons Golf Resort, designed by Donald Wexler and Richard Harrison. The Canyon Country Club, as it was originally known, has a legendary history as a favorite spot of Hollywood icons including Frank Sinatra, Bob Hope, Johnny Carson, Walt Disney and Dean Martin. For the Opening Party, the club will recall the famous "After Dark" television series and be transformed into a swinging club reminiscent of fabulous cocktail parties from the 1960s. This spectacular evening will be over the top with expansive indoor and outdoor lounges, abundant and decadent hors d'oeuvres provided by Lulu California Bistro, and an open bar that offers specialty Rat Pack-era cocktails featuring Hendrick's Gin. Attendees will dance the night away to the tunes of retro performer DJ Baz and a swinging show by The Dreamboats, an upbeat retro Rock & Roll group, back by popular demand, courtesy of Corian Design.
The Modernism Week Show House: The Christopher Kennedy Compound returns this year, presented by Traditional Home and California Home + Design magazines. For the fifth year, Kennedy will bring together prominent tastemakers to create uniquely designed rooms in this decorator showcase, this year located in the historic and toney Deepwell neighborhood. The home, a classic midcentury modern residence, will receive a top-to-bottom transformation by Kennedy's team of professionals. Daily tours and many other exciting evening events will be offered throughout the week at this Show House.
New Events
Fans of midcentury-era Hollywood films will enjoy Hollywood Revisited, a stunning musical revue that showcases a dazzling lineup of costumes worn by the stars in original Hollywood films. Set to the music that defined the times and presented by top notch Broadway and Hollywood performers, Hollywood Revisited lets the audience experience historic costume designs of Hollywood's Golden Age.
Participants of the Modernism Week Signature Home Tour will be able to either drive themselves on the tour route or upgrade to a new VIP chauffeur experience in which up to three participants will be able to ride in a style in Alfa Romeo Stelvio SUVs and finish the tour with an exclusive private reception.
Preservation of historic buildings has always been one of the fundamental pillars for Modernism Week. Preservation will be celebrated this year with tours of the Walter S. White-designed "Wave" house in Palm Desert, which will feature a compelling presentation about the house and its significance, followed by a tour of the structure.
Midcentury modern places of worship will be highlighted in two new tours this year. The first tour, "Sacred Places - Modern Church Tour," will feature more than seven houses of worship and emphasize how the architecture of the structure was designed to augment the purpose of the building. Temple Isaiah in Palm Springs will also be featured in a separate tour entitled "Architecture in Service of the Sacred and Spiritual" that contrasts the historic E. Stewart Williams structure with the 1980's west-facing addition designed by David Christian.
For the last few years, Modernism Week has offered attendees the opportunity to join home tours and architectural excursions outside of the immediate Palm Springs area. This successful expansion continues in 2018 with home tours planned in surrounding desert cities including Palm Desert, Rancho Mirage and Indian Wells.
Donald Wexler's classic 1964 Dinah Shore estate will be open to the public for a special Modernism Week event called A Night at the Dinah Shore Estate on Saturday, February 17. The party, a fundraiser for Save Iconic Architecture, will feature cocktails and the ability to explore this architectural gem. Save Iconic Architecture works to prevent the demise of unique and relevant properties in southern California.
The 2018 Modernism Week schedule features the exciting Ridge Mountain Residence: Exclusive Premier Tour and Reception on February 19. Event attendees will be the first to experience the first completed residential commission in Palm Springs by the renowned firm Ehrlich Yanai Rhee Chaney Architects. Nestled into a rocky mountainside and designed to have minimal impact on its remote environment, the Ridge Mountain Residence is envisioned as a sculptural piece that emerges from and carefully harmonizes with its site. The house dissolves barriers between indoors and out, framing dramatic vistas of the valleys and surrounding desert wilderness. At the reception, attendees will be able to interact with the firm's Founding Partner and Design Principal, Steven Ehrlich, FAIA.
Educational Programming and Film Screenings
Educational outreach is a core element of Modernism Week programming, and this year that trend continues with a special series of presentations about Frank Lloyd Wright, one of the most notable American architects of the 20th century. Produced by the Frank Lloyd Wright Foundation, the series will be conducted by luminaries on the subject, including Alan Hess, who discuss Wright's influence in Southern California and Marsh Davis, who will give a detailed presentation about one of the best maintained Wight-designed Usonian homes now overseen by Indiana Landmarks.
Other educational speaking tracks include a keynote presentation by noted designer Martyn Lawrence Bullard. Speaking at Modernism Week for the first time, Bullard will share what it is like to design homes for his celebrity clientele including the Kardashians, Cher and Tommy Hilfiger. Attendees will learn more about how Bullard is inspired by Palm Springs and how he went about the renovation of Villa Grigio, his 1963 Movie Colony hideaway by architect James McNaughton. Immediately following the Keynote Presentation, Bullard will join a panel discussion with photographer and author Tim Street-Porter and additional designers whose work is highlighted in the book "Palm Springs: A Modernist Paradise." Trina Turk, fashion designer whose own home is featured in the book, will also participate in the event.
Modernism Week will also feature a special panel presentation called Legendary Women of Design (profiling three legendary female designers who were pioneers in a male-dominated field), three presentations about architect Paul Revere Williams, and several presentations about design (including a groundbreaking examination of design dialogues between California and Mexico, followed by a tour, a presentation and moderated conversation entitled "From Googie to Gehry," and a fascinating exploration of the midcentury look and design of the spaces depicted in the film "The Incredibles 2").
Landscape and Outdoor Living topics will be highlighted this year with several significant presentations by luminaries including Kelly Comras, who will discuss Ruth Shellhorn and her landscape design work at the original Disneyland and Bullocks Wilshire stores throughout California.
Michelle Delk, Partner and Landscape Architect at Snøhetta, one of the hottest, most in-demand architectural firms in the world, will offer an insightful overview of her firm's work on the Willamette Falls Riverwalk project, in Oregon City, Oregon which will convert a massive defunct 22-acre paper mill complex into a public-oriented park, riverwalk, visitors center and performance space. Mark Rios, of Rios Clemente Hale Studio, will discuss their firm's work on the new Palm Springs Downtown Park.
Once again, Modernism Week will present a variety of film screenings, including the World Premiere of "Frank Sinatra in Palm Springs - A Place He Called Home" with a post-screening reception at the Ingleside Inn, and a World Premiere of a new film about Albert Frey by beloved architectural film maker Jake Gorst and Design on Screen. In addition, Modernism Week has newly partnered with the American Documentary Film Festival to create a new Architecture Film Series that will feature approximately 25 films about architecture and design in 12-15 screenings.
Returning Favorites
Modernism Week aficionados will be pleased to see that the core favorite events will return this year, and many will feature new enhancements. The popular Premier Double Decker Architectural Bus Tours will feature new additions to the tour with updated commentary, and provides participants with a 2.5 hour overview of significant civic and commercial buildings, as well as residential properties located within notable Palm Springs neighborhoods, including the midcentury "leisure lifestyle" communities in South Palm Springs. Led by knowledgeable guides, this open-air experience offers unique, exterior perspectives of Palm Springs.
Illuminated Modern, and its sunset architectural bus tour, also return this year with an updated route and new additions to the schedule. This unique tour showcases important midcentury modern buildings in Palm Springs, which are illuminated with colorful lighting. Projected on many buildings are the architect's name and year of completion. The historic Town & Country Center will be one of the many architecturally significant buildings to be profiled this year.
One of Modernism Week's most highly anticipated events, the 18th annual Palm Springs Modernism Show & Sale at the Palm Springs Convention Center (February 16-19) will feature 85 premier national and international dealers offering furniture, decorative and fine arts representing design movements of the 20th century. Produced by Dolphin Promotions, whose shows are among the leading venues for antiques and collectibles in North America, the Palm Springs Modernism Show & Sale will open with an Early Buying Preview Party on February 16 to benefit Modernism Week.
Included with admission to the Modernism Show & Sale is weekend admission to the Palm Springs Modern Design Expo, a new event showcasing cutting-edge modern design and technology to be introduced during the first weekend of Modernism Week. Created by the same team that has produced the Palm Springs Modernism Show & Sale for the past 17 years, the Palm Springs Modern Design Expo will feature 40 exhibitors presenting the newest and hippest elements for modern living including dynamic and energy efficient building materials, cutting-edge home appliances and electronics, smart home technology and security, hand-crafted furniture and design accessories, contemporary art and photography, and much more.
Modernism Week attendees will once again be able to tour iconic homes in the Coachella Valley, including residences formerly owned by celebrities such as Frank Sinatra and Kirk Douglas, as well as homes designed by distinctive midcentury modern architects. Many of these homes are rarely open to the public.
Attendees will continue to experience a wide range of compelling architectural tours, specially curated for Modernism Week including various walking tours of Palm Springs, Palm Desert Double Decker Architecture Bus Tours, the James L. Abernathy House, and the iconic Frey House II. In addition to docent-led tours of Frank Sinatra's "Twin Palms" Estate, a special cocktail party will be held at the Sinatra Estate on Saturday, February 24, presented by Alfa Romeo.
Modernism Week's signature 11-day festival will take place February 15-25, 2018. The schedule and tickets will be available November 1 at 12 p.m. PST. To receive updates, visit modernismweek.com and sign up for Modernism Weekly, or follow them on Facebook, Instagram and Twitter. The Hilton Palm Springs Resort, Modernism Week's official host hotel, is offering a special room rate for a limited time only. Contact them directly at 760-320-6868.
About Modernism Week:
Modernism Week is a 501 (c) (3) charitable organization, providing scholarships to local Palm Springs students pursuing college educations in the fields of architecture and design; as well as giving grants to local and state organizations for their efforts to preserve modernist architecture throughout the state of California.
Modernism Week's Mission:
The mission of Modernism Week is to celebrate and foster appreciation of midcentury architecture and design, as well as contemporary thinking in these fields, by encouraging education, preservation, and sustainable modern living as represented in the greater Palm Springs area.