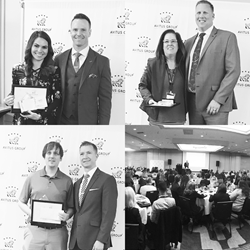 The recipients of these awards exemplify Avitus Group's commitment to helping our customers simplify, strengthen and grow their businesses.
Billings, Montana (PRWEB) October 24, 2017
"The recipients of these awards exemplify Avitus Group's commitment to helping our customers simplify, strengthen and grow their businesses," says Avitus Group Public Relations Manager Dianne Parker. "They are the embodiment of our company's mission, and our customers are very fortunate to have Gabrielle, Joe and Renee with us."
Avitus Group's Corporate Awards highlight the company's continuing effort to help clients simplify, strengthen and grow their businesses via professional business services. While all Avitus Group employees are eligible to win an award, only three are chosen. Each award recipient receives a plaque commemorating their work as well as a $1,000 cash award presented at the company's Annual Fall Conference.
"Joe makes everyone else's job easier," says Avitus Group VP of Operations Andrew Lindley. "He makes everyone around him more efficient and organized, which makes all of our professional business services more streamlined and effective for our customers."
"It's great to hear that my contribution has improved and simplified the needs of my fellow Avitus Group employees and customers. It's a pleasure to work with these individuals, and to be recognized is a true joy. Hopefully, I'll have much more to contribute in the days to come. Thank you, Avitus Group," says Avitus Group Senior Software Developer Joe Hayes.
"Renee is a go-to member of our team, meaning someone who shows the leadership and strength necessary to organize efforts and find a solution that gives our customers the help they need, even under pressure," says Avitus Group CFO J.J. Hutzenbiler. "As our go-to on everything tax-related, Renee strengthens the tax services we provide our customers and, as a result, greatly increases their chance for success."
"I am so proud and touched to have received this award from Avitus Group. I love this company and everyone that I work with. It makes it easy to strive to help strengthen Avitus Group," says Avitus Group Director of Compliance Renee Mion.
"By helping our clients grow their businesses as well as Avitus Group grow as a company, Gabby is a shining example of how creativity, innovation and hard work can yield tremendous results for our clients and ourselves as well," says Avitus Group Executive Vice President Josh Balster. "Whether it is developing self-service portals on our sales app so that we can produce quotes quickly, streamlining process or revising quotes in an instant, Gabby makes herself and everyone around her stronger."
"Over the past 4.5 years my passion and love for this company continues to grow each and every day. I am always looking for and trying to think of new opportunities to help my team and my company simplify, strengthen and grow just like we do for our members. Avitus Group truly is a family that I am so extremely proud to be a part of and excited to see what my future in this company holds," says Avitus Group Sales and Brokerage Analyst Gabrielle Sanchez.
Hayes joined the company in 2013 as a Software Developer and is now a Senior Software Developer. Mion has been with Avitus Group since 2010, advancing from Assistant Controller to Director of Compliance. Sanchez also joined Avitus Group in 2013 as a Payroll Specialist and has since earned promotions to Payroll Inception Specialist and Sales and Brokerage Analyst.
About Avitus Group
Avitus Group is a worldwide company that simplifies, strengthens and grows businesses by providing 'back office' support (payroll, accounting, taxes, recruiting, information technology, human resources and much more). When a business uses Avitus Group, all of the necessary yet burdensome functions of the business become Avitus Group's responsibility, so the business can focus on what it does best. Avitus Group serves clients nationwide through regional office locations from coast to coast. The company also serves international clients around the globe.