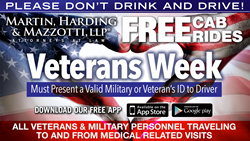 The Free Cab Ride Home Program is a tangible way for us to express our gratitude, by helping vets and military personnel get to their medical appointments - Paul Harding
NY Capital Region, Saratoga Springs, Amsterdam, Utica and Plattsburgh, NY, Burlington, VT (PRWEB) October 24, 2017
To celebrate the sacrifices and achievements of our country's veterans, the law offices of Martin, Harding & Mazzotti LLP ® will offer complimentary cab ride services, for medical-related visits, during the week of Veteran's Day, November 6 -10, from 6:00 AM – 8:00 PM for the third year running. The service is available to all veterans and military personnel in the Capital District, Saratoga Springs, Amsterdam, Utica, Plattsburgh, New York areas; Burlington, Vermont, and Springfield, Massachusetts. Cab rides will cover travel for medical-related visits to and from doctors, dentists, therapists, hospitals, clinics and the like. Rides can be arranged via an easy-to-use mobile app, 'MHM Taxi'; which can be downloaded to smartphones from the iPhone and Android app store or by calling 1800LAW1010 (1.800.529.1010). A helpful, instructional video on how to arrange the free cab ride is available on YouTube. Riders will need to show a valid military ID and Veteran's Week Cab Ride certificate to the driver on the day of service.
Managing Partner Paul Harding offered his thoughts on serving veterans through this program. "Martin, Harding & Mazzotti is pleased to have this opportunity to honor the dedication and loyalty of the men and women in service to our country. The Free Cab Ride Home Program is a tangible way for us to express our gratitude, by helping vets and military personnel get to their medical appointments. It is our way of taking care of them and acknowledging their sacrifice and commitment. "
The Veteran's Week Cab Ride event is an extension of Martin, Harding & Mazzotti's "Free Cab Ride Home Program", which has been in place for more than a decade. This "safety first" service covers cab rides home during specified holiday periods and is designed to reduce the incidence of drunk or impaired driving accidents. The "Free Cab Ride Home" program will be offered again on Thanksgiving Eve, a popular party night for college students.
The law firm welcomes partners to join their Cab Ride Home Program at no charge. If you own or run a local business or organization and are interested in participating in the "Free Cab Ride Home Program", please visit the Martin, Harding & Mazzotti Partner Program page. Together we can support the community and ensure a safe holiday season for all.