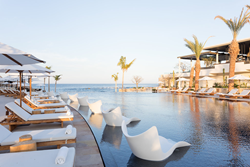 "We are honored to have Chileno Bay Resort & Residences gain the recognition from the discerning readers of Conde Nast Traveler, it's an incredible feat in less than a year since the resort's opening," said Craig Reid, president and chief executive officer, Auberge Resorts Collection
CABO SAN LUCAS, Mexico (PRWEB) October 24, 2017
Condé Nast Traveler announced the results of its 30th annual Readers' Choice Awards recognizing Chileno Bay Resort & Residences as the No. 1 resort in Los Cabos and the No. 4 resort in Mexico (Western Region). The Auberge Resorts Collection property opened in February 2017, and in less than a year, debuts on the list with a score of 98.21. More than 300,000 readers submitted millions of ratings and tens of thousands of comments, voting on a record-breaking 7,320 hotels and resorts, 610 cities, 225 islands, 468 cruise ships, 158 airlines, and 195 airports.
"It's an exciting time in the destination and we are thrilled to come out on top in our inaugural year in Los Cabos," said Marco Bustamante, hotel manager, Chileno Bay Resort & Residences. "Our incredibly passionate and dedicated staff is to thank. They are ambassadors of hospitality and fun, facilitating experiences for our guests from snorkeling on the marine reserve in front of our resort on one of the few swimmable beaches in Cabo; to welcoming every guest with a personally-crafted "Chilenito" mescal cocktail; to providing a tailored wellness experiences at our Auberge Spa and fitness center."
"We are honored to have Chileno Bay Resort & Residences gain the recognition from the discerning readers of Conde Nast Traveler, it's an incredible feat in less than a year since the resort's opening," said Craig Reid, president and chief executive officer, Auberge Resorts Collection. "It's a testament to our people – they offer our loyal Auberge guests exceptional service across our growing collection of boutique luxury properties."
Chileno Bay Resorts & Residences opened its doors February 2017, ushering in a new expression of contemporary Latin luxury to the Cabo landscape. Managed by Auberge Resorts Collection, acclaimed owner and operator of boutique luxury hotels, resorts, residences and private clubs, the resort is set on Chileno Bay, the most coveted swimmable beach in Los Cabos, offering guests a free-spirited beachfront lifestyle with amenities that are a gateway to fun-filled experiences at every turn.
Signature restaurant COMAL offers spectacular ocean views to enjoy a fresh, contemporary take on regional Mexican and Latin American cuisine; at TnT (tacos and tequila) beach bar, guests can enjoy Baja-inspired street food, paired with regionally-inspired cocktails while playing traditional Mexican board games; and a shot of scorpion-fermented mescal awaits the more adventurous guest.
The resort's centerpiece 150-yard, three-tiered infinity edge pool cascades down to the ocean. On the beach, the H2O Activity Cave is stocked with the latest watersports equipment, from Schiller bikes that float over water, to elliptical paddle boards and glass-bottomed kayaks to spend the day exploring the pristine waters of Chileno Bay.
More fun can be had indoors, too, at Chileno Bay Resort's own movie house that can be rented out to showcase feature films or family vacation videos of your Cabo getaway. The wellness-minded guest will have plenty to help them stay in tune to their health goals; from a morning session with the resort's elite CrossFit trainers to a spin class in the pool, finished off with a restorative pause in the Himalayan salt room or time spent in the reflexology pool at the resort's Auberge Spa.
The Condé Nast Traveler Readers' Choice Awards are the longest-running and most prestigious recognition of excellence in the travel industry and are commonly known as "the best of the best of travel." The full list is published exclusively online, at http://www.CNTraveler.com/rca and will be published in the November issue of the magazine.
In celebration of being voted #1 Resort in Cabo by Conde Nast Traveler readers, Chileno Bay Resort is offering the Readers' Choice Package: book three nights and get the fourth night complimentary including full breakfast daily, private airport transfers and $100 resort credit. Restrictions may apply.
For more information or reservations, please visit chilenobay.aubergeresorts.com, or call 1-855-452-6326.
About Auberge Resorts Collection
Auberge Resorts Collection owns and operates a portfolio of exceptional hotels, resorts, residences, and private clubs. While Auberge nurtures the individuality of each property, all share a crafted approach to luxury that is expressed through captivating design, exceptional cuisine and spas and gracious yet unobtrusive service. Properties in the Auberge Resorts Collection include: Auberge du Soleil, Calistoga Ranch and Solage, Napa Valley; Esperanza and Chileno Bay Resort & Residences, Los Cabos, Mexico; Hotel Jerome, Aspen; Malliouhana, Anguilla; Nanuku, Fiji; Element 52, Telluride; Hacienda AltaGracia, Costa Rica; Auberge Beach Residences and Spa, Fort Lauderdale (opening late 2017); Bishop's Lodge, Santa Fe (opening mid-2018); The Lodge at Blue Sky, Utah (opening late 2018); and The Commodore Perry Estate, Austin (opening 2019), with several others in development. For more information about Auberge Resorts Collection, please visit http://www.aubergeresorts.com/. Follow Auberge Resorts Collection on Facebook at facebook.com/AubergeResorts and on Twitter and Instagram at @AubergeResorts.
About The Friedkin Group
The Friedkin Group is comprised of a consortium of automotive, hospitality, entertainment, golf and adventure companies. These organizations include: Gulf States Toyota, GSFSGroup, GS Marketing, US AutoLogistics, Ascent Automotive Group, Auberge Resorts Collection, Imperative Entertainment, 30WEST, Diamond Creek Golf Club, Congaree and Legendary Adventures. The Friedkin Group is led by Chairman and CEO Dan Friedkin.
About Condé Nast Traveler
As the most discerning, up-to-the-minute voice in all things travel, Condé Nast Traveler is the global citizen's bible and muse, offering both inspiration and vital intel. Condé Nast Traveler is the most trusted and celebrated name in travel with 6 National Magazine Award wins and 26 nominations in its 28-year history. Advertising Age named Pilar Guzmán Editor of the Year in 2014 and CNTraveler.com attained 4 Webby Awards since 2015. http://www.cntraveler.com