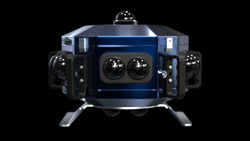 The VRTUL 2 is powerful, proven, and undisputably best in class.
SAN DIEGO (PRWEB) October 25, 2017
VRTUL, the industry leader in underwater VR productions, today announced that their VRTUL 2 camera (http://www.VRTUL2.com) will be premiering at DEMA 2017 in Orlando, FL from November 1st - 4th (Booth #408). In addition to their cutting edge 360 3D technology, VRTUL will be offering their stitching and rendering pipeline to all VR creators providing them with a scalable, end-to-end solution for shooting underwater VR content.
The VRTUL 2 is the only underwater VR camera for professionals with unified camera controls, a live monitoring display, native 3D stereoscopic, ProRes or DNG RAW outputs, 13 stops of dynamic range, combined with 4k resolution and 60fps for unrivaled image quality. "We have visited almost every continent this year and over 15 countries in the last 6 months with our VRTUL cameras. We understand the expectations of quality, control, and reliability that filmmakers need when it comes to VR camera technology. The VRTUL 2 is powerful, proven, and undisputably best in class," says CEO & Founder of VRTUL, Casey Sapp.
Elite agencies, brands, and underwater cinematographers have been partnering with VRTUL for almost two years utilizing their proprietary camera technologies and stitching pipeline. "I wanted to work with VRTUL because they have unrivaled VR camera systems and integrated post-production. They are some of the top underwater VR creators in the world right now. I was excited to be one of their early strategic partners and have been using VRTUL cameras this whole year," said Michael Muller, acclaimed photographer and VR Director.
About:
VRTUL (pronounced Virtual) is a San Diego based VR production company, supporting some of the best creatives in the world from concept through post in 360 and 6DOF experiences. They developed the first 360 stereoscopic underwater camera and are leaders in underwater VR storytelling. Some of their most recent projects include SeaWorld's "Orca 360" VR theater attraction and ABC's Good Morning America Live 360 Underwater Broadcast with Ginger Zee. VRTUL has offices in both San Diego and Los Angeles, handling concurrent projects worldwide. Website: http://www.VRTUL.co
Corporate Contact:
Casey Sapp
CEO/Founder
407-718-9156
casey(at)vrtul(dot)co
Media Contact:
Sandra Kay Helsel, Ph.D.
SK Helsel & Associates
858-752-1212
sandra(at)skhelsel(dot)com