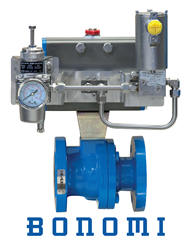 They are fire safe to API 607/ISO 10497/API 6FA.
CHARLOTTE, N.C. (PRWEB) October 24, 2017
Bonomi North America has introduced a new line of Valpres flanged full-port floating ball valves for severe service applications such as oil, gas, petrochemical processing and water treatment. Standard body materials include carbon (A352 LCB) and stainless steel (A351 CF8M) in sizes ½-inch through 6 inches. Other materials are available on a made-to-order basis.
The new two-piece bolted-body valves conform to the design requirements of API 608 with temperature and pressure range meeting ASME B16.34 specifications. Connections and face-to-face dimensions are designed to ASME B16.10 and B16.5. They are fire safe to API 607/ISO 10497/API 6FA. They are also ISO-15848 fugitive emissions compliant.
Valpres API 608 floating ball valves offer an operating temperature range of -196°C to 420°C (-320˚F to 788˚F), suitable for use in standard, high-temperature and cryogenic applications. They are rated to ANSI Classes 150 and 300 throughout the size range and to Class 600 in sizes ½-inch through 4 inches, depending on the application.
Standard seat material is RPTFE. Optional materials include PEEK, PCTFE, VESPEL® and metal to metal (TCC or CCC). FKM seals are standard, with HNBR, EPDM, FFKM, (P)VMQ and graphite available as options. Other standard features include an anti-blowout stem and anti-static device. Other options include extended stem for insulation, extended bonnet for high temperatures and extended bonnet for low temperatures.
The new valves are available with manual or automatic operators. As with all Valpres valves, the new valves are perfectly matched to the company's Valbia brand electric and pneumatic actuators. As a package, Bonomi valves and actuators offer the most reliable automation performance in the industry.
For more information on the Bonomi Group's API 608 floating ball valves or other Bonomi products, contact Bonomi North America at (704) 412-9031 or visit online at http://www.bonominorthamerica.com.
About Bonomi North America
Bonomi North America has served the U.S. and Canada since 2003 and is part of the Bonomi Group of Brescia, Italy. Bonomi Group brands include Rubinetterie Bresciane Bonomi (RB) brass ball valves and check valves; Valpres carbon and stainless steel ball valves; and Valbia pneumatic and electric industrial actuators. Bonomi North America maintains an extensive distribution network for these products from its headquarters in Charlotte, N.C. and a facility in Oakville, Ontario, Canada.