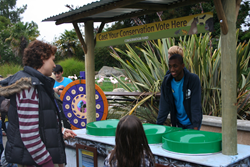 Oakland, CA (PRWEB) October 25, 2017
In furthering its commitment to conservation, Oakland Zoo has recently doubled its ticket allocation amount in support of conservation to 50¢ per ticket sold, and is also including a portion of all future Zoo membership fees as well. This means next year's contribution is expected to reach well over $250,000.
Fifty percent of this year's funds will go directly to three featured conservation programs in the field that help save American bison (Iinnii Initiative), native frogs and toads (Oakland Zoo's Frog and Toad Biodiversity Project), and cotton-top tamarin monkeys (Proyecto Titi in Colombia).
Twenty-five percent of the funds raised will be used towards Oakland Zoo's onsite conservation programs such as veterinary care for California condors and the Western Pond Turtle head-start program. The remaining twenty-five percent of the monies helps support the Zoo's conservation field partners around the world, including: ARCAS wildlife rescue in Guatemala, the Bay Area Puma Project, Bornean Sun Bear Conservation Center, the Kibale Fuel Wood Project, the Reticulated Giraffe Project, the Marine Mammal Center, The Budongo Snare Removal Project, EWASO Lions, and Ventana Wildlife Society.
Oakland Zoo's new featured conservation partners for 2018 focus on species native to California, in celebration of the upcoming California Trail (opening June 2018).
"It was our vision when creating California Trail, to share the stage with organizations that support California wildlife. We hope the work that they do for mountain lions, black bears and grey wolves fosters connection, pride, and knowledge-based action for all of our Zoo visitors and community," said Amy Gotliffe, Director of Conservation at Oakland Zoo.
Featured beneficiaries for 2018 include the Bear League, the Mountain Lion Foundation, and the California Wolf Center. See below descriptions for additional information about the 2018 partners:
From Bear League:
BEAR League of Lake Tahoe has been educating locals and visitors for over 20 years on 'Living in Harmony with Bears' and all precious wildlife. While we strive to keep animals wild, we have long admired the Oakland Zoo's educational programs that underscore the need to maintain healthy, wild habitat and foster understanding of the many animals we share our Earth with.
From Mountain Lion Foundation:
Coupled with Oakland Zoo's commitment to protecting California's wildlife, our project to promote coexistence between people, pets, livestock and mountain lions in the East Bay Area will serve as a model for communities that share the land with mountain lions. Mountain Lion Foundation has worked to protect California's lions for three decades.
From California Wolf Center:
California Wolf Center values preservation of wolves, wild species and their habitat. The Range Steward program will receive the funds raised by the Zoo, and will be key to protecting our new California wolf residents.
Oakland Zoo's Quarters for Conservation program has raised more than $620,000 for wildlife conservation since its inception in 2012.
For more information on the above programs, visit: http://www.oaklandzoo.org//Quarters_4Conservation.php
Contact: Erin Harrison, (510)746-7120, eharrison(at)oaklandzoo(dot)org
Contact: Amy Gotliffe, (510) 632-9525 ext. 122,
amy(at)oaklandzoo(dot)org
ABOUT OAKLAND ZOO
The Bay Area's award-winning Oakland Zoo is home to more than 700 native and exotic animals. The Zoo offers many educational programs and kid's activities perfect for science field trips, family day trips and exciting birthday parties. Oakland Zoo is dedicated to the humane treatment of animals and wildlife conservation onsite and worldwide; with 25¢ from each ticket donated to support conservation partners and programs around the world. The California Trail, a transformational project that more than doubles our size, opens in June 2018, and will further our commitment to animal care, education, and conservation with a focus on this state's remarkable native wildlife. Nestled in the Oakland Hills, in 500-acre Knowland Park, the Zoo is located at 9777 Golf Links Road, off Highway 580. The East Bay Zoological Society (Oakland Zoo) is a nonprofit 501(c)3 organization supported in part by members, contributions, the City of Oakland and the East Bay Regional Parks. For more information, go to: http://www.oaklandzoo.org