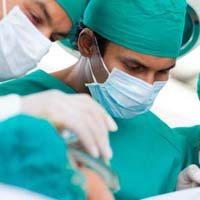 There was no intergroup difference in length of hospital stay or in in-hospital, 30-day or 90-day mortality.
RALEIGH, N.C. (PRWEB) October 24, 2017
Doctors at Glenfield Hospital in Leicester, England say surgery is not necessarily any riskier for older pleural mesothelioma patients than it is for younger ones. Surviving Mesothelioma has the details. Click here to read the article now.
The scientists reached that conclusion after analyzing the outcomes of 282 pleural mesothelioma patients who underwent extended pleurectomy and decortication between 1999 and 2016.
"There was no intergroup difference in length of hospital stay or in in-hospital, 30-day or 90-day mortality," reports study author Annabel Jane Sharkey, MD, a cardiothoracic surgeon and Clinical Fellow in the Department of Cancer Studies at the University of Leicester.
According to the report published in Interactive Cardiovascular and Thoracic Surgery, what made a bigger difference was whether or not a mesothelioma patient had chemotherapy either before or after their surgery. Regardless of age, patients whose mesothelioma cancer had spread to their lymph nodes had poorer outcomes.
"This study seeks to correct a common misconception about age and is good news for older mesothelioma patients who are in otherwise good physical condition, which is more common today than in years past," says Alex Strauss, Managing Editor for Surviving Mesothelioma.
To read more about mesothelioma treatment outcomes in patients over 70, see Age May Have Little Impact on Mesothelioma Surgery Outcomes, now available on the Surviving Mesothelioma website.
Sharkey, AJ, et al, "Extended pleurectomy decortication for malignant pleural mesothelioma in the elderly: the need for an inclusive yet selective approach", November 1, 2017, Interactive Cardiovascular and Thoracic Surgery, pp. 396-702, https://academic.oup.com/icvts/article/doi/10.1093/icvts/ivx221/4002752/
For more than a decade, Surviving Mesothelioma has brought readers the most important and ground-breaking news on the causes, diagnosis and treatment of mesothelioma. All Surviving Mesothelioma news is gathered and reported directly from the peer-reviewed medical literature. Written for patients and their loved ones, Surviving Mesothelioma news helps families make more informed decisions.