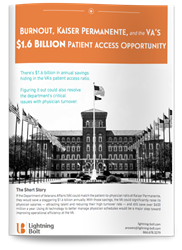 To catch up to Kaiser Permanente, the VA can start by using AI technology to optimize physician work schedules.
SAN FRANCISCO (PRWEB) October 24, 2017
A new study released today shows a $1.6 billion opportunity in the way the Department of Veterans Affairs (VA) balances its patient and physician volumes. Researchers compared the patient-to-physician ratio between the VA health system and similarly sized Kaiser Permanente in the report, which is available to download here.
Kaiser Permanente manages 554 patients per physician, a ratio 55 percent higher than the VA's 356 patients per physician. If the VA could match the patient-to-physician ratio at Kaiser Permanente, they would save a staggering $1.6 billion annually. With those savings, the VA could increase its physician salaries to national averages — attracting talent and reducing their high turnover rate — and still save over $400 million a year.
"To catch up to Kaiser Permanente, the VA can start by using AI technology to optimize physician work schedules," said Suvas Vajracharya, Ph.D., CEO of Lightning Bolt Solutions. "Patient access technology now allows health systems to match the right patient, to the right provider, at the right time — more efficiently using physician clinical expertise and reducing patient wait times."
Providing over 58 million medical appointments to veterans each year, the VA has spent much of the last decade under fire for issues related to providing timely access to care for its growing patient population. However, with David Shulkin, M.D., the new secretary of Veterans Affairs and a general medicine physician, at the helm, the agency has been focused on new strategies for technology-driven efficiency.
The full VA report is available for download here, including details of the calculations and tactics the health organization can use to match Kaiser Permanente's patient-to-physician ratio without physician burnout. Research was conducted by Lightning Bolt Solutions and Catherine Chuter, an MBA/MPH candidate at Haas School of Business, University of California, Berkeley.
About Lightning Bolt Solutions
Lightning Bolt Solutions is the leading provider of automated physician scheduling for hospitals and health systems around the world. Optimizing over 3 million physician shift hours each month, the company creates schedules that promote work-life balance, productivity, and patient access. Using award-winning AI technology, Lightning Bolt optimizes the physician scheduling workflow to bring balance to complex scheduling variables, aligning the needs of clinical staff with those of the healthcare organization to help reduce physician burnout and improve patient access.