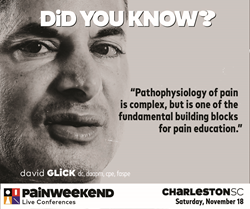 As the pain management landscape becomes more complex, never has foundational education been more important
MONTCLAIR, N.J. (PRWEB) October 24, 2017
Earlier this year, Governor Henry McMaster signed into law a South Carolina prescription monitoring bill. The Governor said the state must know "where the abuse is taking place." The goal is to save lives.
PAINWeekEnd (PWE) on November 18 at the Charleston Marriott, 170 Lockwood Boulevard in South Carolina, will be an educational and exciting full-day meeting providing busy clinicians and allied healthcare practitioners with 6.0 hours of relevant, practical instruction in the management of chronic pain.
"As the pain management landscape becomes more complex, never has foundational education been more important," says Kevin L. Zacharoff, MD, FACIP, FACPE, FAAP, who will be presenting Chronic Pain Assessment at PWE Charleston. "PAINWeekends bring that education to you in your community," continued Dr. Zacharoff, who teaches at SUNY Stony Brook School of Medicine in the Department of Preventive Medicine, in New York.
Dr. Zacharoff will also be presenting When Acute Pain Becomes Chronic. Other courses include Pain Pathophysiology Unraveled; Nonopioid Analgesics: Antidepressants, Adjuvant Therapies, and Muscle Relaxants; Pain Diagnostics: Clinical Pearls to Improve Common Tests for Pain; and To Infinity and Beyond: Safe and Effective Opioid Titration Strategies.
Commercially supported activities—addressing a range of product, disease state, and medical information topics—will also be presented.
Register at PAINWeekEnd (or go to painweek.org/painweekend/attendees/locations-and-dates.html). The registration fee for this PAINWeekEnd Conference is $129. SPECIAL BONUS: PAINWeekEnd registrants may register for the 2018 PAINWeek National Conference, September 4-8, in Las Vegas, for $200 off the current online published price.
PAINWeekEnd is provided by Global Education Group. About Global Education Group:
Global Education Group focuses on producing partnership-based CME for healthcare practitioners. The Global team works with a select group of medical education companies, associations, academic institutions and healthcare facilities to develop and accredit live healthcare conferences and workshops as well as online activities. With each partnership or joint providership, Global brings accreditation expertise, project management excellence and grant funding intelligence. Based in Littleton, Colo., Global has accreditation with commendation from the ACCME. Global also holds accreditations to offer continuing education for nurses, nurse practitioners, pharmacists, dietitians, dentists and psychologists. Global is a division of Ultimate Medical Academy.