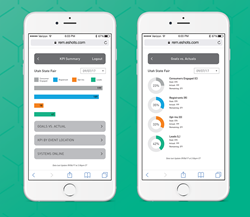 We've learned through the years that one of the best ways that you can help ensure positive event results is by identifying weak spots as they are happening and making adjustments on-the-fly.
Chicago, IL (PRWEB) October 26, 2017
eshots, Inc. has announced the release of a new tool that will give event marketers the information they need to make on-the-fly adjustments to improve their in-progress events. Real-time Event Monitoring provides real-time data on critical event metrics, including goals-versus-actual performance and other key performance indicators. Additionally, this information will be available by event or by individual system, allowing event managers to identify high or low-performing teams. Real-time Event Monitoring is mobile-optimized and accessible from any mobile device or desktop browser.
eshots will offer a free-trial period to all existing clients, starting November 1, 2017. For more information about participating in this free trial contact your eshots representative or email info(at)eshots(dot)com.
Key features and benefits include:

Identify potential issues at your events before they become major problems
Connect from anywhere at anytime to monitor performance against goals in real-time
Informative KPIs help you track progress for all your active events by day, location, and system
Onsite staff or back-at-office users can quickly identify bottlenecks or opportunities to maximize performance
"While evaluating event performance is critical to managing overall program ROI, we wanted to provide our clients with the opportunity to make adjustments on-the-fly before an event is over and it's too late to affect the outcome. This new Real-time Event Monitoring tool provides both the boots-on-the-ground event managers and back-at-the-office program owners the tactical information they need to guarantee event-level results," says eshots' Vice President of Product Development, Gretchen Paige.
eshots will continue to release additional features for this Real-time Event Monitoring tool throughout the following year. To learn more please email info(at)eshots(dot)com or visit http://www.eshots.com.
ABOUT ESHOTS
Founded in 1998 and headquartered in Chicago, IL, eshots is regarded as the leading consumer lead capture, engagement and conversion platform in the experiential marketing industry. We help our enterprise clients improve their experiential marketing ROI through advanced data capture and marketing science-based interpretation. As the only technology-enabled services company in the experiential industry, we employ consultative account specialists to help clients uncover actionable insights within a data-driven framework to make better event planning decisions across the entire life-cycle of the event. Our clients are many of the most respected enterprise brands in the world, including The Coca-Cola Company, FCA, Ford, Mercedes-Benz, Nationwide and State Farm to name a few. Last year, eshots partnered with clients to capture over 3 million consumer leads from over 25,000 event days.
Press Contact
Daniel Maurer
Marketing Manager
eshots, Inc.
312-253-1500
** Photos available upon request