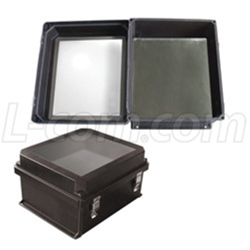 "Our windowed NEMA enclosures are perfect for applications where technicians and other personnel need to view equipment housed in the enclosure...to monitor critical readings and status information on process and control equipment," said Manuel Martinez, Product Manager
NORTH ANDOVER, Mass. (PRWEB) October 24, 2017
L-com Global Connectivity, a preferred manufacturer of wired and wireless connectivity products, announced today that it has released two new windowed NEMA rated enclosures.
L-com offers one of the most extensive lines of NEMA enclosures available anywhere. L-com's NEMA rated enclosures can be used for wired, wireless and industrial networking applications both indoors and outdoors. Many options are available including heating, cooling, venting and powered versions.
L-com's NBBW-series NEMA enclosures are similar to the NBW-series enclosures and are constructed from hot compression molded, halogen-free, self-extinguishing, fiberglass-reinforced polyester (FRP) making them suitable for high-temperature and corrosive environment applications. The NBBW enclosures feature a Lexan window and measure 14x12x7 Inches. Additional features include stainless steel quick release latches with padlock hasps and fully gasketed raised lids with integral mounting flanges.
The NBBW141207-KIT features a blank aluminum mounting plate and the NBBW141207 is a basic enclosure without a mounting plate. Additional versions of these windowed enclosures featuring our wide range of options are planned as well.
"Our windowed NEMA enclosures are perfect for applications where technicians and other personnel need to view equipment housed in the enclosure. Many of our customers in the industrial control and processing industries require this feature to monitor critical readings and status information on process and control equipment," said Manuel Martinez, Product Manager.
L-com's new NBBW-series NEMA rated enclosures are in stock and available for immediate shipment.
For more information about this release, please contact:
Peter McNeil
L-com Global Connectivity
17792 Fitch
Irvine, CA
978-682-6936 x1174
About L-com Global Connectivity:
L-com Global Connectivity, a leading manufacturer of wired and wireless connectivity products, offers a wide range of solutions and unrivaled customer service for the electronics and data communications industries. The company's product portfolio includes cable assemblies, connectors, adapters, antennas, enclosures, surge protectors and more. L-com is headquartered in North Andover, Mass., is ISO 9001: 2008 certified and many of its products are UL® recognized. L-com is an Infinite Electronics company.