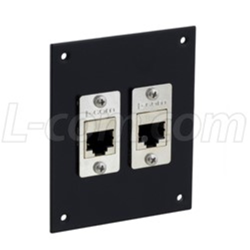 "...we are constantly adding new options to address our customers' requirements for a range of interfaces to support a variety of applications. Customers can quickly and easily build their own custom rack panel using our wide assortment of universal style sub-panels," said Manuel Martinez, Prod Mgr
NORTH ANDOVER, Mass. (PRWEB) October 26, 2017
L-com Global Connectivity, a preferred manufacturer of wired and wireless connectivity products, announced today that it has launched a new series of universal sub-panels with various data and A/V interfaces.
L-com's universal sub-panel line was developed to allow installers and technicians flexibility when designing voice, video and data networks. The universal sub-panels are available in a broad range of interfaces and technologies and are offered in two and four port versions. The panels were designed to be housed in L-com's six bay UPR35-6B universal master rack panel.
The new USP sub-panel additions include DisplayPort, shielded USB, as well as shielded and unshielded Cat6a-rated RJ45 universal sub-panels. The panels are constructed of 16-gauge, cold-rolled steel for strength and feature a black powder coat finish for durability. Each panel ships with four 6-32 screws for quick installation.
"As we continue to expand our popular universal sub-panel product line we are constantly adding new options to address our customers' requirements for a range of interfaces to support a variety of applications. Customers can quickly and easily build their own custom rack panel using our wide assortment of universal style sub-panels," said Manuel Martinez, Product Manager.
L-com's new universal sub-panels are in stock and available for immediate shipment.
For more information about this release, please contact:
Peter McNeil
L-com Global Connectivity
17792 Fitch
Irvine, CA
978-682-6936 x1174
About L-com Global Connectivity:
L-com Global Connectivity, a leading manufacturer of wired and wireless connectivity products, offers a wide range of solutions and unrivaled customer service for the electronics and data communications industries. The company's product portfolio includes cable assemblies, connectors, adapters, antennas, enclosures, surge protectors and more. L-com is headquartered in North Andover, Mass., is ISO 9001: 2008 certified and many of its products are UL® recognized. L-com is an Infinite Electronics company.