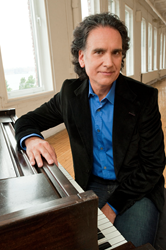 "The meaningful work that we do is only possible because of the support of individuals and organizations that share our values and believe in our vision." Alfa Demmellash, CEO and co-founder, Rising Tide Capital
JERSEY CITY, N.J. (PRWEB) October 23, 2017
On November 2nd at 6:00 p.m., philanthropist, Emmy-award winning composer, and musician Peter Buffett will host a private concert and conversation to benefit Rising Tide Capital, a non-profit dedicated to transforming disadvantaged communities and lives through entrepreneurship. The event, "RISE: A Celebration of Entrepreneurship," will feature a food festival showcasing Rising Tide Capital's entrepreneurs. The food festival is being organized by Midnight Market, a small business co-founded by a Rising Tide Capital Community Business Academy graduate.
"We are proud to support the transformative work that Rising Tide Capital is doing in some of our nation's most economically vulnerable communities," stated Peter Buffett, co-president of the NoVo Foundation. "The work of Rising Tide Capital aligns perfectly with the mission of the NoVo Foundation in that we are committed to developing the capacities in people—individually and collectively—to help create a more equitable society. Providing programs and resources to help underserved entrepreneurs to start, sustain, and grow businesses can offer a powerful pathway for people to lift themselves out of poverty and improve their own communities."
"We are immensely grateful to the Novo Foundation, under the leadership of Jennifer and Peter Buffett, for its long-time support in helping us to build more inclusive economies through entrepreneurship," said Alfa Demmellash, co-founder and CEO of Rising Tide Capital. "The meaningful work that we do is only possible because of the support of individuals and organizations that share our values and believe in our vision. Our collaboration with Jennifer and Peter and the NoVo Foundation will enable us to have a greater impact on the communities that we serve and to replicate our work in economically marginalized areas across the United States. We are proud that the graduates of our nationally recognized Community Business Academy experience a 64% increase in business sales, a 47% increase in household income, and a 56% reduction in the use of public assistance."
"RISE: A Celebration of Entrepreneurship" is taking place on Nov ember 2nd at 6:00 p.m. at Harborside Plaza 3 Atrium in Jersey City. In addition to the concert and festival, the 10 finalists of the 2017 Start Something Challenge will be recognized, and they will receive $25,000 in small business grants presented by JPMorgan Chase. Over the past 6 years, over 500 individuals from across New Jersey have entered the competition and the winning entrepreneurs have been awarded with approximately $150,000 in grants to support and grow their businesses. Principal sponsors of the event are JPMorgan Chase, NJ Advance Media, RWJBarnabas Health, Silverman, and TD+Partners.
RTC is headquartered in Jersey City, New Jersey with offices in Newark and Orange. The organization is also in the South Side of Chicago through a replication partnership with a local non-profit. RTC has four primary programs: the Community Business Academy, the Start Something Challenge, Credi t to Capital, and Business Acceleration Services. All of these programs are aimed at helping entrepreneurs to achieve self-sufficiency, thrive, and deliver value to their communities. RTC's model is unique in that it offers ongoing mentoring and support to ensure sustainability. RTC's work has been recognized by CNN, the World Economic Forum, and President Obama at the White House.