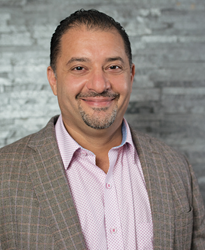 Today's challenging circumstances have led to a renewed appreciation for services like ours.
DANIA BEACH, Fla. (PRWEB) October 25, 2017
The founder and CEO of Q Link Wireless, Issa Asad, announced today his company obtained approval to provide no-cost phone service in the state of Arkansas through the federally-run Lifeline Program. The approval came from the Federal Communications Commission (FCC), which operates the Lifeline Program through its subsidiary, the Universal Services Administrative Co., and pays for the program through taxes levied on cell phone usage. The FCC has not expanded the Lifeline program with the issuance of new licenses in more than five years.
Q Link, the nation's third-largest phone company in the Lifeline program, has nearly two million customers, and the addition of Arkansas increases its geographic coverage to 29 states. The license allows Q Link to offer services to Arkansans who qualify for participation in the Lifeline Program, such as veterans, SNAP recipients, Medicaid recipients, and people living in Section 8 housing. Program participants receive a complimentary smart phone, 350 minutes of calling each month, unlimited texts, and up to 1 gigabyte of data. The program was designed for Americans who might not otherwise have access to vital communication services, including the ability to make 9-1-1 calls.
Q Link's expansion into Arkansas will have significant positive impact since the state has one of the highest poverty rates in the nation, almost one in five. Only three states in the U.S. have a larger number of people living below the poverty line. In addition, as a rural state, its residents often live in areas with limited connectivity, making access to phone services and internet even more important than in urban areas.
"The people of Arkansas will finally have more choices when it comes to the Lifeline Program," said Q Link's Issa Asad. "There's such a high percentage of people in Arkansas on Medicaid, who receive SNAP assistance, and other qualifiers for the program that it is obvious our services are desperately needed."
Q Link recently made news for its contributions to areas affected by natural disasters, including Texas, Louisiana, Florida, and Puerto Rico. After Hurricanes Harvey, Irma, and Maria, the company waived overage charges for customers who exceeded their voice and data allotment. In total Q Link gave away more than $5 million in phone service to customers in need.
"When times are hard, we rely on our cell phones even more than usual," said Asad. "And the Lifeline Program helps keep people safe so they have the necessary communications tools in the palm of their hand."
For more information about Q Link Wireless, or to schedule an interview with Issa Asad, please contact Meieli Sawyer at 305-668-0070 or msawyer(at)weinbachgroup.com.
About Q Link Wireless
Q Link Wireless, a Quadrant Holdings Company, is one of the nation's leading providers of wireless voice and data service through the Lifeline Program. With more than 1.9 million customers, Q Link is wirelessly connecting people to the world around them, regardless of their income.