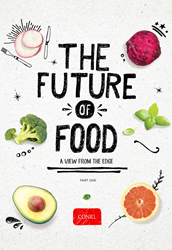 LOS ANGELES (PRWEB) October 24, 2017
A new report published today by Conill reveals 14 trends that are reshaping the relationships between people and the foods they eat.
"The Future of Food -- Part One: A View from the Edge" examines food through the lens of its importance as a cultural marker. It is the result of in-depth interviews with leading experts in food and health and wellness, in addition to companies putting their stamp on food trends.
Topics explored include:
# 5 GUT HEALTH
Consumers are turning to the nutraceutical route by using food as a replacement for medicine to combat everything from inflammation to toxins in order to promote long-term health and wellness.
#7 RESPONSIBLE EATING
Beyond eating healthy, people have a general concern for the impact that the production, consumption and disposal of food has on other humans.
#10 RISE OF THE FOOD DETECTIVES
Mysterious food-borne diseases and sensitivities like Irritable Bowel Syndrome have pushed many to re-evaluate how to eat and to be more meticulous about what they eat.
"The Future of Food -- Part One: A View from the Edge" is freely available for download at https://conill.com/news/The_Future_of_Food.pdf
ABOUT CONILL
Founded in 1968 as the nation's first Latino marketing agency, Conill is currently among the fastest growing multicultural agencies in the U.S. It has been recognized in Advertising Age's annual Agency A-List Report in seven of the past ten years, including Multicultural Agency of the Year honors twice. The agency's roster of clients includes Aflac, Denny's, Nationwide, Procter & Gamble, T-Mobile and Toyota Motor Sales.