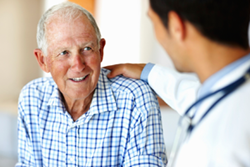 It is imperative that men who are diagnosed with prostate cancer have the tools they need in advance, to help them make an informed decision...
SANTA ROSA, Calif. (PRWEB) October 24, 2017
A recent study revealed this month that as they get older, some men who have undergone treatment for prostate cancer come to regret the treatment decisions they made. This study reviewed the survey results of 934 men conducted at intervals of one, two, five, and 15 years after they were treated for prostate cancer. Most of the men (89%) were treated with surgery or radiation. Ultimately, 14.6% of the entire group expressed some regret over treatment results (16.6% of the radiation-treated men, 15% of the surgically-treated men, and 8.2% of the men treated conservatively).
"Luckily today there are more treatment options for men with prostate cancer," says Santa Rosa Urologist Dr. Michael Lazar, MD of California HIFU. "It is interesting to see that most of the regret expressed by these patients has to do with loss of quality of life due to side effects from treatment including; loss of sexual function, related bowel issues and urinary incontinence. These are the same side effects I hear my patients express concern about as well. This is another reason why new treatments such as HIFU can be a great option for men who have been diagnosed in the early stages, when long term side effects of more radical treatments can potentially be avoided."
The study results also revealed that regret increased over time, suggesting that when initial concerns over surviving prostate cancer fade, the life altering consequences of treatment become more obvious. Regrets spiked among men who felt they hadn't been adequately counseled by their physicians before pursuing a particular treatment option, and also among men who were overwhelmed by constantly fluctuating levels of prostate-specific antigen, a blood test used to monitor cancer's possible return.
"It is imperative that men who are diagnosed with prostate cancer have the tools they need in advance, to help them make an informed decision," explains Dr. Lazar. "Information is more available now than it was 15 or 20 years ago, and it is easier for cancer patients to educate themselves. It is still important for the doctor to have a comprehensive knowledge of current treatment options, and to share that information openly with the patient. This is the best way to avoid regret."
Prostate Cancer Treatment Options
There are many prostate cancer treatment options available today. Prostate cancer is usually managed with active surveillance, radiation therapy, surgery to remove the cancerous gland, freezing (cryotherapy), or high intensity focused ultrasound (HIFU). Hormonal therapy is used to only to control cancer that has spread beyond the prostate, or for very elderly patients with a limited life expectancy.
After many years of poor response rates to the usual chemotherapy medicines, an explosion of new therapies are becoming available, specifically for the treatment of prostate cancer. This includes medicines that kill tumor cells directly, stimulate the man's immune system to attack the tumor, and prevention of the tumor from growing a blood supply, to name just a few. These therapies are for cancers that have spread beyond the prostate and are not treatable with Radiation, Surgery, Freezing, or HIFU.
HIFU: Non-invasive Treatment for Prostate Cancer
HIFU, an FDA approved precise and targeted therapy for the treatment of prostate cancer, is one of the most exciting new treatments available today. It is one of the few that actually reduces the risk of complications caused by surgery and radiation. HIFU uses ultrasound energy, or sound waves, to target and destroy only specific areas of tissue and during the procedure, the sound waves pass through healthy tissue without causing damage. At the focal point of the sound waves (similar to a magnifying glass focusing the rays of the sun to burn a leaf), the tissue temperature is elevated only high enough to destroy the targeted tissue.
"Although recommendations are that men opt to wait and watch when diagnosed with prostate cancer, HIFU is a treatment that is most effective for men who have early stage, localized prostate cancer that has not spread or metastasized outside the prostate," explains Dr. Lazar.
About Dr. Lazar
Dr. Lazar is part of Northern California Medical Associates (NCMA) and operates California HIFU in Santa Rosa. He is the medical director of HIFU Prostate Services, LLC, a leading provider of minimally-invasive prostate cancer treatments using High Intensity Focused Ultrasound (HIFU). Dr. Lazar is also a clinical partner with HPS with the HIFU San Francisco Surgery Center of Excellence, a state-of-the-art facility that is convenient to hotels and the airport. For more information about Dr. Lazar, HIFU treatment for prostate cancer visit the HIFU website or to make an appointment call: (707) 546-5553.