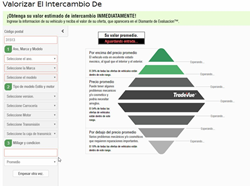 We have been contacted by consumers and dealers alike to have the option for a Spanish version of TradeVue. We're excited to be able to provide a Spanish option to the Hispanic community and our dealer customers who serve them."
JACKSONVILLE, Fla. (PRWEB) October 24, 2017
TradeVue, the #1 Trade-in Conversion Platform, announces the release of a Spanish version of TradeVue that caters to the needs of dealerships' Spanish-speaking customers.
The release of the Spanish version of TradeVue is in line with current car buying trends. According to data provided by Dealer Marketing Magazine, car purchases by Hispanic buyers are on track to double from 2010 to 2020.
This 116% growth rate means that there are nearly 2 million new vehicles that will be purchased by Hispanics this year alone. Additionally, about 75% of the Hispanic community speaks Spanish in their own homes and 4 in 10 prefer to read offline and online content in Spanish or mostly Spanish.
"We have been contacted by consumers and dealers alike to have the option for a Spanish version of TradeVue." states Aaron Brinsko, E-Drive Auto's Director of Quality Control. "We're excited to be able to provide a Spanish option to the Hispanic community and our dealer customers who serve them."
Since 2000, the Hispanic population has grown more than 58%. Over the next five years this demographic will drive 50% of The Nation's population growth and by the year 2020, will represent a $1.7 trillion dollar buying power. Hispanics, on average, are 50% more likely to buy a luxury car and are much more likely to purchase a new vehicle instead of a used one.
This data shows the importance of catering to this rapidly growing demographic. TradeVue is one of only two trade-in tools that offer a Spanish version.
The Spanish option can be accessed with the click of a button that is located on the TradeVue Tool's page. Hispanic buyers will have the same information that the English version provides, only in their own language, making it much more appealing to this important demographic.
About E-Drive Autos
Based in Jacksonville, Florida, E-Drive Autos provides conversion assets to thousands of car dealers across the United States. The Company's flagship product is TradeVue, a boutique vehicle appraisal platform that delivers range-based trade values instantly on a patented Appraisal Diamond®. TradeVue drives one of the highest form completion rates among all trade appraisal products and comes with a money-back guarantee. E-Drive Autos was founded in 2011 by Derek White, the original founder of real estate data giant RealtyTrac.com.