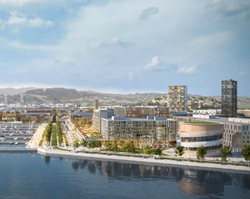 Together, GI Energy and FivePoint are redefining the prototype for sustainable development
SAN FRANCISCO (PRWEB) October 25, 2017
GI Energy is delighted to announce it will lead the energy infrastructure development for one of the country's largest and most ambitious new urban developments, The SF Shipyard in San Francisco, CA. The 400-acre former US Navy Yard site will be transformed into an approximately 6 million square feet mixed-use development of office and retail space plus thousands of new homes and green space, by FivePoint Holdings (NYSE: FPH). After a competitive bid process, FivePoint selected GI Energy to be its exclusive energy infrastructure partner, to create a sustainable 'Eco-Grid'. GI Energy will direct the team and work with FivePoint to realize their vision of a world-class truly sustainable new community on San Francisco's waterfront.
To bring to life this unparalleled achievement, FivePoint has coordinated partnerships with GI Energy and the San Francisco Public Utilities Commission (SFPUC). Together, they are transforming the area into a live/work/play community with green environmental practices that can be sustained for generations.
The GI Energy Solution
The solution will minimize the development's environmental impact by providing integrated renewable energy, district-scale recycled water, and one of the largest geo-exchange heating and cooling systems in the country. FivePoint is proving that green technologies are no longer a luxury, but an integral part of our present and future.
The benefits will extend to commercial and residential customers. The solution provides premium eco-friendly services for non-premium market rates.
"The SF Shipyard 'Eco-Grid' brings innovation and scale to infrastructure systems – from water to telecommunications – that will provide a state-of-the-art, environmentally-friendly live, work and entertainment community sustainable for generations to come," said Kofi Bonner, FivePoint's northern California Regional President.
Key components that will enable The Shipyard to combat climate change, while providing high-end services at affordable, sustainable rates are:

Renewable Electricity – The goal is to provide all electricity from renewable sources through pioneering integration of photovoltaics, energy storage and management techniques, while leveraging SFPUC's clean energy portfolio. Natural gas- and oil-fueled heating will drop sharply.
Recycled Water – The guidelines are to reduce consumption while promoting maximum reuse of water resources, ensuring ample supplies at favorable cost.
HVAC Savings – The SF Shipyard's technology approach will cut HVAC energy consumption by 68 percent, dramatically reducing environmental impact and saving 150 million gallons of water per year.
GI Energy's Chief Development Officer David Yanni said, "This opportunity is unbelievably exciting. The chance to redefine the prototype for sustainable development, and to do so in the heart of one of America's most vibrant and dynamic cities, is nearly unprecedented. FivePoint's exceptional vision of a community that will be a showcase for sustainable innovation for the next 50 years is an inspiration, and represents an inflection point for both the real estate and energy industries. Together, GI Energy and FivePoint are rewriting what's possible."
FivePoint, GI Energy and SFPUC are laying the sophisticated and highly coordinated groundwork for urban design that will carry The SF Shipyard well into the future, charting the course for ambitious, forward-looking developers in other communities.
"The Eco-Grid is a new concept that required a new way of doing business," said Harlan Kelly, General Manager of the San Francisco Public Utilities Commission. "The SFPUC and the City needed to develop innovative and creative processes to deliver services for the Eco-Grid's unique needs. Our ability to do that demonstrates our commitment to a clean environment and the success of this public-private partnership."
Our Team – a Collaborative group of Industry Leaders
Recognizing that a development of this scale and scope requires specialists across all disciplines, GI Energy created a partnership consortium of industry experts. It includes FivePoint's original Eco-Grid plan architect, San Jose-based Alfatech, Wisconsin-based engineer MEP Associates and water re-use specialist Natural Systems Utilities. Underpinning the SF Shipyard is long-term infrastructure financing which removes first-cost hurdles and ensures economic viability for decades.
GI Energy has committed to working with FivePoint in every way possible to ensure that the development can be a testament to sustainable development, and a 'best-in-class' trailblazer for the next generation of mixed-use developments.
For additional information please contact: David Yanni, Chief Development Officer - Dyanni(at)gienergyus(dot)com in California or Thomas Chadwick, CEO – tchadwick(at)gienergyus(dot)com in Chicago. http://www.gienergyus.com @gienergyus.
About The Shipyard and Candlestick
The SF Shipyard, a former Navy base, anchors a wider development plan that incorporates the iconic Candlestick Park site into adjoining communities with a unique range of features including an expansive 750-acre site, more than 12,000 homes, with a selection of affordable and market-rate apartments, townhomes and condominiums; approximately 5 million square feet of commercial space, creative workspace, R&D, artist, maker, and community space; nearly 1 million square feet of retail and entertainment space, and more than 350 acres of waterfront parks, trails and restored shoreline.
About GI Energy
GI Energy is a leading provider of on-site energy and microgrid solutions in North America. Using world-class engineering and outstanding execution, GI Energy specializes distributed energy resources (DER) development, financing, construction and advisory services. The company helps customers, including utility companies, real estate developers and commercial building owners, leverage state-of-the-art technologies to hedge against high/volatile energy prices, improve energy reliability and reduce environmental impacts and greenhouse gas emissions thereby increasing the value of the underlying real estate assets and company value. GI Energy is headquartered in Chicago and has offices in New York, Los Angeles and San Francisco.
About FivePoint
FivePoint, headquartered in Aliso Viejo, California, designs and develops mixed-use, master-planned communities in coastal California. FivePoint is developing vibrant and sustainable communities in Orange County, Los Angeles County, and San Francisco County that will offer homes, commercial, retail, educational, and recreational elements as well as civic areas, parks, and open spaces. FivePoint's three communities are: Great Park Neighborhoods® in Irvine, Newhall Ranch® near Valencia, and The San Francisco Shipyard/Candlestick Point in the City of San Francisco. The communities are planned to include approximately 40,000 residential homes and approximately 21 million square feet of commercial space.
About Alfatech
AlfaTech is a full service mechanical, electrical, and plumbing engineering, technology, architectural lighting design, commissioning, energy solutions and sustainability firm. Founded in 1987 and headquartered in San Jose, it has over 100 employees worldwide and has built a reputation providing innovation in the design process for energy and environmental conservation. Sustainability experience includes net zero energy building design, geothermal central plants, thermal storage systems, and grey water recycling. AlfaTech's team of engineers use the latest climate analysis, thermal comfort analysis, CFD modeling, and life cycle cost analysis to assist clients make informed decisions on building systems.
About MEP Associates
MEP Associates, LLC is a full service, multi-disciplinary engineering and consulting firm focused on the design and future of sustainable, energy efficient solutions for projects nationwide. MEP offers mechanical, electrical, plumbing, fire protection as well as commissioning, and energy modeling services. MEP specializes in the design of geothermal, solar photovoltaic, thermal storage, energy recovery, and other emerging renewable energy technologies. MEP Associates is headquartered in Eau Claire, Wisconsin and has offices in Minnesota, Ohio, and Oklahoma.
About Natural Systems Utilities
NSU is a national leader in onsite water treatment and reuse systems. With over 30 years of experience NSU currently operates over 200 systems across the United States, including the largest base of on-site reuse and natural treatment systems. The approach offers clients fully integrated and cost effective solutions that incorporate award-winning innovations in system design. NSU has built the unique capability to structure a full range of design, build, operations and ownership project solutions. Their reputation has been built on best in class execution capability, and on long term shared-value partnerships with the people and communities served.