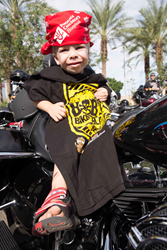 "Bob's Biker Blast is one hell of a party," said entrepreneur and philanthropist Bob Parsons. "But more importantly, it's a celebration of the often-overlooked generosity of the motorcycle community and a chance to rally around kids who are facing serious medical issues."
Scottsale, Airz (PRWEB) October 24, 2017
SCOTTSDALE, Ariz. (October 24, 2017) – American entrepreneur and philanthropist Bob Parsons will host the 6th Annual Bob's Biker Blast on November 4, at Harley-Davidson® of Scottsdale (HDOS) and GO AZ Motorcycles. The yearly event is a chance for casual bikers, bike enthusiasts and music lovers to have a "blast" while making a difference. Bob's Biker Blast celebrates the diversity within motorcycling and the positive impact bikers have on their community, with proceeds benefitting Phoenix Children's Hospital (PCH). Including a generous donation from The Bob & Renee Parsons Foundation, last year's event raised $250,000 and brought the five-year total event contributions to more than $1.7 million.
"Bob's Biker Blast is one hell of a party," said Parsons. "But more importantly, it's a celebration of the often-overlooked generosity of the motorcycle community and a chance to rally around kids who are facing serious medical issues."
The hospital's "I Ride for PCH" self-guided motorcycle ride to the dealerships revs up at 11 a.m. and acts as the official kickoff for Bob's Biker Blast, but the event is not limited to ride participants or motorcyclists. Admission to Bob's Biker Blast is free with a motorcycle endorsement and $20 for all others, with 100% of proceeds benefitting Phoenix Children's Hospital.
"I continue to be inspired by the support of Mr. and Mrs. Parsons and Bob's Biker Blast," said Craig McKnight, Phoenix Children's Hospital CFO. "The money raised not only helps us fund vital programs and services for our patients, but the outpouring of support from his companies and the biker community show true dedication to sick and injured children in Phoenix."
This year's headlining concert will feature American Rock band 3 Doors Down with second stage performances earlier in the day by Mini Kiss and local band, Analog Outlaws. Bob's Biker Blast will also feature a guest appearance by Willie G. Davidson – former senior vice president and chief styling officer of Harley-Davidson Motor Company and grandson of Harley-Davidson's co-founder.
Once again, the dealerships are hosting a motorcycle sweepstakes, and during the event, one lucky winner will take home a new motorcycle valued at up to $25,000. Contestants can enter to win daily at GO AZ Motorcycles in Scottsdale, GO AZ Motorcycles in Peoria, or Harley-Davidson of Scottsdale. For more information about the sweepstakes and a full list of events, visit:
http://www.hdofscottsdale.com.
About Harley-Davidson® of Scottsdale
Owned by Bob Parsons, Harley-Davidson® of Scottsdale is the largest Harley dealership in North America. The 150,000 square-foot facility was designed to be a true entertainment space and includes a tattoo and piercing studio, wedding chapel and movie theater. Harley-Davidson of Scottsdale is a Top 50 Dealership as awarded by Powersports Business and Top 100 Dealer as awarded by Dealernews Magazine.
About GO AZ Motorcycles
Founded by Bob Parsons, GO AZ Motorcycles is passionate about motorcycles, the people who ride them and the community in which they ride. One of the largest motorsports dealerships in the country, GO AZ Motorcycles represents the best brands in the world – BMW, Ducati, Honda, Kawasaki, KTM, Triumph, Vespa, Ural and Aprilia. The dealership's mission is to engage customers and the community in meaningful and long-lasting relationships by offering the best brands, employing well-trained and motivated sales and service staff. The dealership promotes safe and responsible riding and actively connects with, and gives back to, the community. GO AZ Motorcycles has locations in Scottsdale and Peoria, Arizona.
###
Media Contact: Amber Liptai | BIG YAM, The Parsons Agency | aliptai@bigyam.com | 480-344-0163