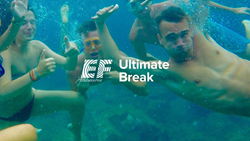 "EF Ultimate Break offers something very different than solo travel," says Michelle McNeice, VP, Marketing, EF Ultimate Break.
Cambridge, MA (PRWEB) October 25, 2017
Travelers Can Choose From 60+ Trips Across the Globe, With Different Styles, Lengths, and Activities To Fit The Adventure- and Experience-seeking Lifestyle Of Gen Zers and Millennials
EF Education First (EF), the world leader in international education, announced it has rebranded its EF College Break division to EF Ultimate Break. The change is designed to appeal to Gen Zers and Millennials who believe traveling with others is the best way to discover the world and meet new people. Plus, their trips are not just for college kids. EF Ultimate Break's incredible collection of immersive travel experiences are ideal for anyone 18-29 years old.
18-29 is the time when many young people move between college and new careers and have the flexibility and desire to take on new adventures. Whether traveling solo or with a friend to destinations in Europe, South America, Asia, and Australia, EF Ultimate Break makes it easy to plan, book, and experience the world. On EF Ultimate Break trips, travelers connect with others who love discovering new places all the while sharing unbelievable moments and creating unforgettable memories.
One-stop, stress-free booking including flights, accommodations, opt-in excursions, and a 24-7 rock star Tour Director make EF Ultimate Break the easiest way to travel at the greatest value. Financially-stretched 18-29 year olds will also appreciate the flexible, interest-free payment options that keep the incredible experience of travel attainable.
"EF Ultimate Break offers something very different than solo travel," says Michelle McNeice, VP, Marketing, EF Ultimate Break. "Exploring the world with a group of like-minded travelers can be a transformative experience full of self-reflection and new lifelong bonds. You can't help but come back with a new outlook on life and the world!"
New "Ultimate Earth" Global Adventure Sells Out in Five Days
To celebrate its renaming, EF Ultimate Break introduced, and quickly sold out their limited edition, first-of-its-kind "around the world" adventure, "Ultimate Earth". Interested travelers can still sign up on a wait list or enter to win the one free spot on this five continent, 58-day trip, and join 30 of today's adventure-seeking 18-29 year olds. The sweepstakes ends October 31st. Check out the adventure.
Travel Designed for Today's 18-29-Year-Old
EF Ultimate Break trips are specially-designed to appeal to the unique needs and lifestyles of 18-29-year-olds:

Go Alone. Or With A Friend.: Many travelers start solo, but leave the trip with lasting friendships and a passion for travel.
Choose From Global Destinations: Travelers can book itineraries across multiple continents and countries—Latin America, Europe, and Asia being most popular.
Plan A Trip Stress-Free: Going on a trip is easy with one-stop, easy booking with trips that range from one to five weeks and include flights, travel between cities, accommodations, and more!
Enjoy Competitive Pricing/Flexible Payment Options: All trips offer competitive pricing and flexible, interest-free payment plans makes travel accessible.
Travel With A 24/7 Tour Director: Tour Directors accompany every trip and are available 24/7 with a focus on local immersion.
Have Fun On Jam-Packed Itineraries: Every trip provides the perfect mix of planned time, free time, and optional excursions.
About EF Ultimate Break
EF Ultimate Break is the best way to experience the world for anyone 18-29. With 60+ trips, everything from airfare and accommodations to flexible payment plans and free daily breakfasts are included. As a proud part of EF Education First, EF Ultimate Break draws on over 50 years of EF expertise to add amazing travel experiences to its growing tour portfolio. EF, the world leader in international education, has helped more than 15 million people learn a language, discover the world or earn an academic degree to date.
###