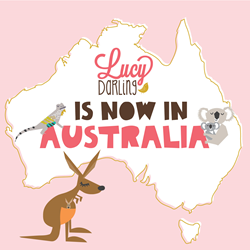 Australia has been on our radar for a long time. After talking to our customers, researching the country demographics, and looking at our competition, we feel certain our product will be very successful here. – Kevin Meyers, Chief Operations Officer
Scottsdale, AZ (PRWEB) October 24, 2017
Lucy Darling has planned on growing internationally for a couple of years. The brand spent months researching countries, demographics and pricing models, in order to make their first international move the right one. Although Germany and England were high on the list, Australia rose to the top due the young Australian mum's modern design aesthetic, her desire for quality product and Lucy Darling's ability to ship product to Australia quickly and efficiently.
"Australia has been on our radar for a long time. After talking to our customers, researching the country demographics, and looking at our competition, we feel certain our product will be very successful here." – Kevin Meyers, Chief Operations Officer
Lucy Darling is launching in Australia with a limited selection of their best selling products- Memory Books, Monthly Stickers and Closet Dividers. Once the company has an understanding of sales, they hope to expand to a greater selection of product styles and look into expanding the overall product offering.
Their Australian website http://www.lucydarling.com.au launched last week and the company is excited by the traffic and sales they have seen so far. It's a clear indicator that there is a strong affinity toward the Lucy Darling brand in Australia.
About Lucy Darling
Lucy Darling offers baby milestone stickers, art prints for nurseries, nursery closet dividers and baby memory books. They design all of their own product and print locally in the USA. From monthly baby stickers to nursery art prints, pregnancy belly stickers to closet dividers, Lucy Darling is thrilled to offer unique and high-quality products at affordable prices. Visit http://www.lucydarling.com.
Follow on:
Instagram: Lucydarlingshop
Pinterest: lucydarlingshop
Facebook: Lucydarlingshop