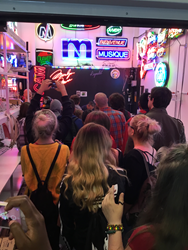 "I was amazed at the complexities of sign manufacturing. I am strongly considering this field."
Alexandria VA (PRWEB) October 24, 2017
There is no denying that finding the next generation of workers is a challenge for the sign, graphics and visual communications industry. But in October, more than 3,700 potential employees walked through the doors of ISA-member companies participating in Sign Manufacturing Day 2017.
They left with a better understanding of the sign, graphics and visual communications industry—as well thoughts of a potential career. Multiple companies reported that students completed applications soon after the tours ended.
Here is some of what students had to say:

"This tour got me thinking about a career in the sign industry."
"Seems like a nice place to work."
"Each job that I saw was yet another profession that I was unaware that existed and it was very eye opening."
"I was amazed at the complexities of sign manufacturing. I am strongly considering this field."
"I would love to work in this industry. I can weld and do wood work. I would love to know more about this company."
"When do I start?"
In all, some 62 ISA member companies opened up 67 locations throughout the U.S. and Canada. Now in its fifth year, Sign Manufacturing Day—held the first Friday in October**—continues to grow exponentially.
In addition, the Sign Research Foundation hosted university students and professors of interior design, landscape architecture and urban planning at a workshop in conjunction with Michigan State University's School of Planning, Design, and Construction. The day-long workshop included opportunities to learn more about wayfinding, sign fabrication and signage within a campus setting. Participation exceeded expectations.
In previous years, participating companies have used the day to hire entry-level workers, develop co-op and internship programs and make valuable connections with local technical and community college instructors.
Instructors have indicated that they love to showcase how training relates in the work world and often incorporate future class periods to discuss what they learned by participating in Sign Manufacturing Day. Some even take the opportunity to host mini class sessions in the sign, graphics and visual communications company, showcasing the process of fabricating signs, the machines used and how their particular training relates to the overall product.
Companies participating in 2017 were:
Accurate Signs, Mesquite, TX
AD/S Companies, Corona, CA
AGS, Exton, PA
Allen Industries, Greensboro, NC
Arrow Sign, Oakland, CA
ASG (Advance Sign Group), Columbus, OH
Baker Signs and Manufacturing, Conroe, TX
Blanchett Neon, Edmonton, AB
DaVinci Sign Systems, Inc., Windsor, CO
Day Nite Neon Signs, Dartmouth, NS
Design Center Signs, Tyler, TX
Design Communications, Ltd, Orlando, FL
Design Team Sign Company LLC, Savannah, TN
Enseignes Plus, Châteauguay, QC
Faces, Pelham, AL
FDC Graphic Films, Inc., South Bend, IN
Federal Heath Sign Company, LLC, Racine, WI
Federal Heath Sign Company, LLC, Euless, TX
Federal Heath Sign Company, LLC, Oceanside, CA
Federal Heath Sign Company, LLC, Jacksonville, TX
Federal Heath Sign Company, LLC, Delaware, OH
Gordon Sign Co., Denver, CO
Hansen Signs, Moncton, NB
Hilton Displays, Greensville, SC
Howard Industries, Fairview, PA
IdentiCom Sign Solutions, Farmington Hills, MI
ISF Sign Specialists, Indianapolis, IN
Jones Signs, De Pere, WI
JSJ Electrical Display, Fairfield, CA
KAPCO, Kent, OH
Kieffer|Starlite, Sheboygan, WI
Lewis Sign, Buda, TX
LNS Legacy National Signs, Dallas, TX
LSI Industries, Inc., North Canton, OH
Mattatall Signs, Ltd., Dartmouth, NS
Media Resources, Inc., Oakville, ON
Midtown Signs, LLC, Kansas City, MO
Midwest Light & Sign, Farmington, MO
Montreal Neon Signs, Laval, QC
North American Signs, South Bend, IN
Pattison Sign, Penticton, BC
Persona Inc., Watertown, SD
Poblocki Sign Company, Milwaukee, WI
Poyant Signs, Inc., New Bedford, MA
Pride Signs, Cambridge, ON
Ramsay Signs, Portland, OR
Robert Amerding Company, San Jose, CA
Schurle Signs, Lawrence, KS
Scott Paragon Signs, Richmond, BC
Selkirk Signs & Services Ltd, Cranbrook, BC
Serigraphics Sign Systems, Inc., Golden Valley, MN
Signarama (Corporate), West Palm Beach, FL
Signs by Crannie, Flint, MI
SIGNSTAR, Tampa, FL
Signtech Electrical Advertising, Inc., San Diego, CA
Skyline Sign Services Ltd, Edmonton, AB
Sleek Advertising Ltd, Regina, SK
Spectra Advertising, Concord, ON
St. Clair Signs, Taylors, SC
Steel Art Company, Norwood, MA
Stone's Signs, Saint Charles, MO
Superior Electrical Advertising Inc., Long Beach, CA
Think Digital Signs, Edina, MN
ThinkSign, Inc., Louisville, KY
YESCO, Las Vegas, NV
YESCO, Salt Lake City, UT
Ziglin Signs, Washington, MO
It's not too early to start thinking about Sign Manufacturing Day 2018, scheduled for October 5. Participating companies are provided a toolkit that helps them connect with area educators and assists them in showcasing the diverse careers available in the sign, graphics and visual communications industry. To express interest in participating, email workforce(at)signs(dot)org.
Sign Manufacturing Day is just one of the ways that ISA is working to solve workforce issues for the sign, graphics and visual communications industry. Visit the ISA Career Center (signs.org/careers) for additional information and resources.
** Some participating companies may slightly shift dates to accommodate fall break and other school scheduling situations.
The International Sign Association (ISA) strives to be the leader in shaping and developing the sign, graphics and visual communications community worldwide.