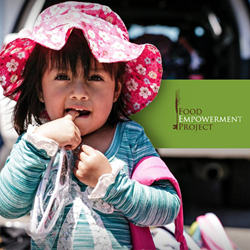 We are proud to be supporting this cause and helping to provide these children with the resources they deserve to succeed in school
San Jose, CA (PRWEB) October 26, 2017
Pinnacle One Insurance Services, a San Jose area firm that offers insurance and financial preparation assistance to families and business professionals in Bay Area California, is working with the Food Empowerment Project in a charity drive to help facilitate the education of children of agricultural families in the state.
The Food Empowerment Project School Supply Drive is an integral program in the San Jose area that helps ensure children of farming families have access to materials that allow them to get the most out of their education. Since 2015, the program has provided thousands of school children with scholastic supplies, and the San Jose city hall is now an official location for the supply drive.
"We are proud to be supporting this cause and helping to provide these children with the resources they deserve to succeed in school," says Robert Varich, the chief executive and founder of Pinnacle One Insurance Services.
To connect with local educators, families, and farming communities, Varich and the Pinnacle One team have established online resources over social media and email channels to provide more information on the charity drive. In addition, the firm will soon be releasing a new edition of their online magazine "Our Hometown" that will contain a feature article discussing the charity event: http://pin1ins.com/magazines/.
The Pinnacle One team has long been a regional affiliate of the Agents of Change interstate charity empowerment coalition, and has worked on more than a dozen charity efforts for a variety of causes in California. Going forward, Varich and his team plan to continue their policy of launching a new local charity event every sixty days.
Pinnacle One Insurance Services has created the following page to help provide readers with additional information on the charity event to help provide educational resources to the children of farming families in California: http://pin1ins.com/causes/learning-beyond-fields/. For a full listing of all charitable events hosted by the Pinnacle One team over the last two years, readers are directed to the agency's Community Causes archive: http://pin1ins.com/community/.
About Pinnacle One Insurance
Pinnacle One Insurance's team mission is to provide the best insurance and financial services in the industry. Their number one job is to protect the assets for which their customers have worked so hard, and to help them invest so they may retire in comfort. Pinnacle One's success is measured by customer satisfaction and the added value brought to their lives. To reach the capable and caring agents at Pinnacle One Insurance, visit http://www.pin1ins.com/ or call 408-257-1234.