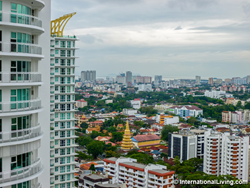 Walking around here at midnight is never an issue
BALTIMORE, Md. (PRWEB) October 24, 2017
Women travel in greater numbers than do men—and of those female travelers, baby boomers are the group that heads out alone most often.
International Living editors have noticed more solo travelers opting to retire alone overseas, as well—particularly single women.
"It stands to reason that we're seeing more solo female retirees settling all around the world," says Jennifer Stevens, Executive Editor of International Living.
"After all, over the last few decades, more women have had careers that required them to travel alone, giving them a taste of independence on the road. Marriage rates are down across the board. And among baby boomers, fewer women than men remarry once they're divorced or widowed.
"Polls show that more women travel alone than do men. And our editors and correspondents have noticed that, in greater numbers, these trailblazing, independent women are opting to not just travel alone overseas...but to take that next step and retire solo abroad as well."
Single female baby boomers retired overseas report that they find the experience to be a fulfilling adventure.
Kathy L. Hall spent the last year roving through Latin America in retirement—alone.
"The path I've trod across Latin America over the last year or so has been incredibly rewarding," says Hall. "Along the way, I've explored lonely expanses of pristine beach, walked cobblestone colonial streets, and ascended the steps of ancient pyramids. I've enjoyed the glorious greenery and spectacular wildlife of tropical rainforests and experienced the warmth of the local people, as well as the camaraderie of fellow travelers of all ages. I did it all for just $1,500 a month…and I've traveled solo, attesting to how safe it can be to navigate this region."
Judith LaRoue, 71, moved solo to Nicaragua last year. She says, "I feel safer in Nicaragua than in Atlanta, where I had [first] retired. Many single women have moved here, so it's not unusual to see us out walking around by ourselves. I am relaxed, but aware of my surroundings. And there are always other expats to buddy up with at night. If I'm out late, I can always get a taxi to my house for less than a dollar. I believe it's important to speak to your neighbors, recognizing who lives in your barrio and who doesn't is good for everyone. I live in San Juan del Sur where the people are very friendly and there are always people willing to give a helping hand."
International Living Panama Editor, Jessica Ramesch echoes that sentiment.
"I've been writing about Panama for more than 10 years now," she says. "So, I do a lot of traveling here on my own. And I have absolutely no qualms about it. I feel safer here than I did back in the States. I come across many solo expats and tourists, be it in mountain towns like Boquete or the beach haven of Coronado. There's no doubt that most of Panama's popular havens are as great for singles as they are for couples."
International Living Mexico Editor, Glynna Prentice moved to Mexico nearly 11 years ago. She says, "I'm single and I moved for many of the same reasons others move abroad. I was tired of high-stress jobs and wanted to enjoy life while I was still relatively young. And, looking ahead to the future, I saw no way to save enough to enjoy the quality of retirement I'd want in the U.S. But in Mexico, where cost of living is much lower, my budget affords me a very comfortable lifestyle."
As a single woman, Cheryl Fankhauser was looking for a safe and welcoming place to settle, with a thriving social scene. Penang, Malaysia ticked those boxes. She says she found the locals friendly and she loved the fact that everything in George Town—the island's main city—is walkable and safe. Even "walking around here at midnight is never an issue," Fankhauser says.
A former outpost of the British empire, Penang's English-speaking populace makes it simple for North American expats to fit in and female retirees report that life is easy and inclusive.
Fankhauser has immersed herself in the expat community in Penang. "I joined InterNations, Expat Mingles and the Penang Decorative & Fine Arts Society," says Cheryl. "With so much going on I haven't had a day, or a night for that matter, alone since arriving. It's fabulous!"
Cheryl's parting advice for someone contemplating a similar move is simple, "Come and live here for six weeks, and if you like it, go for it," says Cheryl. "I did and I couldn't be happier."
International Living's full guide to Solo Travel can be found here: Going Solo:How and Where to Enjoy Life Abroad as a Single
Editor's Note: Members of the media have permission to republish the article linked above once credit is given to InternationalLiving.com.
Further information, as well as interviews with expert authors for radio, TV or print, is available on request. Photos are also available.
For information about InternationalLiving.com content republishing, source material or to book an interview with one of our experts, contact PR Managing Editor, Marita Kelly, +001 667 312 3532, mkelly@internationalliving.com
Twitter: @inliving
Facebook: https://www.facebook.com/International.Living/
About International Living
For 37 years, InternationalLiving.com has been the leading authority for anyone looking for global retirement or relocation opportunities. Through its monthly magazine and related e-letters, extensive website, podcasts, online bookstore, and events held around the world, InternationalLiving.com provides information and services to help its readers live better, travel farther, have more fun, save more money, and find better business opportunities when they expand their world beyond their own shores. InternationalLiving.com has more than 200 correspondents traveling the globe, investigating the best opportunities for travel, retirement, real estate, and investment.