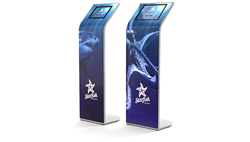 The flexibility of using a changeable graphic panels is going to give brands a lot of opportunity to take their messaging to the next level, and at an easily affordable price point
Waterloo, ON (PRWEB) October 25, 2017
Armodilo Display Solutions is proud to announce the release of the follow up to the EXHIBITOR Buyer's Choice Award-winning AURA tablet kiosk solution: ALUR.
With its low profile, sleek silver accents and premium feel, ALUR helps companies make the most of their messaging using quick-change magnetic panels which allow for adjustable graphics and branding on both sides of the kiosk enclosure.
Ideally suited for mass deployment in hospitality, retail, commercial, security, and trade show environments, ALUR facilitates the promotion of loyalty programs, activations, and partnerships. Guests and customers will quickly gain information from the signage, while also gaining an opportunity to interact with a brand's digital platform.
The ALUR features ADA-compliant design, and is made of high-quality steel and aluminum. Each ALUR comes with a custom-fitted tablet carrier, which makes it possible to upgrade or change the tablet being used without the expense of a new enclosure.
Armodilo's ALUR tablet kiosk currently supports the newer generation of Apple iPad devices including the iPad Air 1 & 2, iPad 2017, iPad Pro 9.7 and iPard Pro 12.9. Testing of Microsoft Surface tablets as well as some additional tablet support is currently underway.
"We're really excited to see what our customers do with the ALUR," said Iles Guran, Creative Director at Armodilo, "the flexibility of using two changeable graphic panels is going to give brands a lot of opportunity to take their messaging to the next level, and at an easily affordable price point."
The ALUR is available for sale now at http://www.armodilo.com.