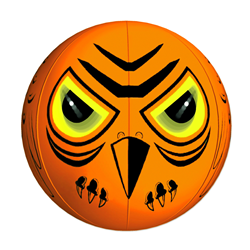 (PRWEB) October 24, 2017
Pest and bird control company Bird-X, Inc. is getting into the Halloween spirit this year, by taking 13% off the price of several best-selling visual scare decoys. Aptly titled, the two products that will be on sale are the "Scare Eye" balloons (packs of 3) as well as the "Terror Eyes" balloon.
Inflatable visual scare devices like these are an inexpensive and effective solution for keeping unwanted birds from perching and roosting nearby, also reducing damage to gardens and trees. The bright colors and fierce features mimic natural predators, and the organic movement creates the illusion of a predator following pest birds before attacking. Lifelike holographic eyes instill fear in pest birds, making them think twice about perching nearby.
"These are really user-friendly products, and are installed in minutes. With everyone decorating their houses in preparation for Halloween, why not keep pest birds away as well?" says Rachel Cable, the Marketing Manager at Bird-X.
The sale will run for a limited time through the rest of October. No promotional codes are needed, savings reflected on website.
Customers can browse all visual scares and predator decoys here.
Bird-X, Inc. has spent over 50 years protecting public areas from over 60 bird-spread transmissible diseases. The leading international brand of humane bird control solutions, this Chicago-based company manufactures a complete line of unique bird control products, protecting the health of humans, wildlife, and the environment by deterring birds from unwanted areas without harming them.
For information on any of Bird-X's humane pest control products, please call customer service at (800) 662-5021.