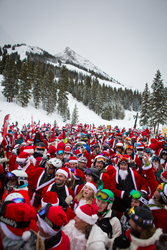 MOUNT CRESTED BUTTE, Colo. (PRWEB) October 24, 2017
Help set the World Record for the most skiing Santas at Crested Butte Mountain Resort (CBMR) on Dec. 9, 2017. It doesn't matter if you ski, snowboard or snowblade, all Santas are welcome at the 5th annual Crested Butte Santa Ski.
This year, event organizers hope to break the event's previously set World Record (in 2015) for the most number of skiers in full Santa costumes — 827 skiing Santas! The best way to kick off the holiday season is with some turns at Crested Butte Mountain Resort and a classic Crested Butte costume party.
This iconic event also features a Santa Pub Crawl option in town and discounted lift tickets for Santas— just $25 — for skiers and riders decked out in a full Santa suit, valid that day only. In order to qualify, participants must wear a red top, red pants, a Santa hat and beard. You can make your own suit, use an old one or purchase one in advance from http://www.cbsantacrawl.com.
Crested Butte Mountain Resort also will offer some very cheerful lodging deals in honor of this year's event. Stay at the Grand Lodge for $99 per night, or receive 50 percent off all other CBMR-managed lodging (valid Dec. 5-13, 2017). Visit http://www.skicb.com/santa to book.
The group Santa Ski down warming house hill from the Ice Bar starts at 3:30 p.m. and is open to all ages and is free to participants. All you need is a Santa suit and either a season pass or a day pass, available for purchase at Santa Headquarters in the middle level of the Treasury Center.
After the Santa Ski, take the bus to town for the pub crawl portion of the evening, or stay up on the mountain for Light Up Night in the Lodge at Mountaineer Square Courtyard at 5 p.m. Warm up by the fire as Santa sprinkles magic dust on top of the Christmas Tree for the annual Christmas tree lighting. Children will get a chance to have their photos taken with Santa next to the tree afterwards.
To learn more about the other quirky events Crested Butte Mountain Resort has planned for the 2017/'18 ski season, like the third annual Fat Bike Worlds slated for Jan. 25-28, 2018, Butte Banked Slalom on Jan. 20, 2018 and the Winter Chainless Bike Race on March 24, 2018, visit http://www.skicb.com/events.
If you go …
What: Crested Butte Santa Ski
Where: Crested Butte Mountain Resort
When: Dec. 9. Registration opens for ski ticket purchase and or suit pick up at 8 a.m.; lifts start at 9 a.m.; Santas gather at the Ice Bar at 2:30 p.m. and the Group Santa Ski starts at 3:30 p.m.
Cost: It's free to participate. Must have a ski pass or lift ticket (available for just $25 for Santas in full costume that day).
More information: Visit http://www.cbsantacrawl.com to register or find more information regarding the event. Santa suits must have a top, bottom, hat and beard to qualify for discounted ticket. Visit http://www.skicb.com to learn more about Crested Butte Mountain Resort.
About Crested Butte:
Nestled in the heart of Colorado's Rocky Mountains, Crested Butte is committed to preserving the pristine landscape and mountain lifestyle. With vibrant Victorian store fronts and expressive local characters, the small historic town remains true to its heritage and radiates an unparalleled welcoming and inviting spirit that celebrates a simpler life and time. Thanks to a widely diverse landscape, outdoor enthusiasts of all levels will find a new challenge with each visit. From world-class mountain biking, to legendary skiing and snowboarding, to a secluded fly-fishing experience, Crested Butte is one of Colorado's best-kept secrets. http://www.skicb.com
For more information about Crested Butte's lodging, conference, meeting facilities, and special packages, call Crested Butte Vacations, (844) 993-9545 or visit the web site at http://www.skicb.com/deals.
###
Media Contact:
Zach Pickett
zpickett(at)cbmr.com
970-349-4361
Emily McCormack
emily(at)hulacommunications.com
Caramie Petrowsky
caramiepetrowsky(at)gmail.com