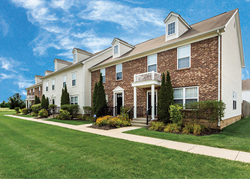 The acquisition of the Preserve at Winchester Crossing is our direct response to our investors' needs and wants for portfolio diversification
COLUMBUS, Ohio (PRWEB) October 25, 2017
KB Exchange Trust ("KB") acquired the Preserve at Winchester Crossing for $18.8 million as part of its expanding Delaware Statutory Trust (DST) investment program. The property consists of 189 two-story, condo-mapped townhomes that are part of a 210-townhome community in Columbus, Ohio.
"Our 1031 exchange investors have requested the addition of multifamily properties to our investment offerings. The acquisition of the Preserve at Winchester Crossing is our direct response to our investors' needs and wants for portfolio diversification," stated KB Exchange Trust managing partner Jeff Pori.
"The location, adjacent to an upscale grocery center and within blocks from a major highway on-ramp that provides excellent access to Downtown Columbus, makes this property a very attractive asset for us to offer to our investors," added to KB Exchange Trust EVP Jeff Farnsworth.
The Preserve at Winchester crossing is situated on 21.69 acres accessing Winchester Pike in Groveport, Ohio, part of the Columbus Metropolitan Statistical Area. A total of 158 townhomes was constructed in 2016 during Phase II, while 31 were built in 2005 as part of the first phase. The 189 townhomes are contained within 28 separate buildings, in addition to a clubhouse.
Denizen Management, the assigned third-party property manager based out of Carmel, Indiana, forecasts a steady increase in the property's income through rental increases that will be implemented over the next three years. It is anticipated that there will be upside in the rental income through the incremental renovation of the 31 townhomes that were part of the community's Phase I development.
With a population estimated at more than two million, Columbus has one of the fastest-growing population rates in Ohio and outside the Sun Belt. Featured in Money Magazine's "The Six Best Big Cities," Columbus was ranked as "The Best in the Midwest." The region boasts a highly-educated workforce with excellent wage growth. Columbus has emerged as a technologically-sophisticated city and is home to the world's largest private research and development foundation, the Battelle Memorial Institute, and Ohio State University, the nation's third-largest collegiate campus. Other top employers include JP Morgan Chase, Ohio Health, Nationwide Insurance, Mt. Carmel Health Systems, Honda of America, and Kroger.
About Kingsbarn Realty Capital
Kingsbarn Realty Capital is a private, real-estate equity firm focused on acquiring commercial property assets throughout the United States. Offering both direct and indirect real estate investments, Kingsbarn provides clients with the opportunity to invest in its various structured real estate private placements. Kingsbarn's management team has extensive experience developing, managing, and sponsoring a diverse array of stabilized core properties and income-driven investment funds. Competitive, risk-adjusted returns are offered to Kingsbarn investors through diversified investment programs.
About KB Exchange Trust
KB Exchange Trust is a sponsor of DST-structured real estate investments, specializing in single-tenant, net-leased properties. The sponsor's experienced management team has purchased and closed over $2 billion of fractional ownership properties for its 1031 investor clientele.
KB Exchange Trust DST interests are securities as defined by the Securities and Exchange Act of 1934 and may be sold only to "accredited investors" who meet certain minimum annual income or net-worth thresholds. The securities are subject to legal restrictions on transfer and there is no market for resale. These securities are being offered in reliance on an exemption from registration, and neither the U.S. Securities and Exchange Commission nor any other regulatory authority has passed upon the merits of an investment in the securities or passed upon the adequacy or accuracy of the offering materials describing the securities. Investing in securities involves risk, and investors should be able to bear the loss of their investment.