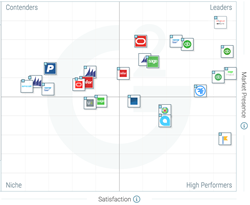 CHICAGO (PRWEB) October 24, 2017
G2 Crowd, the world's leading business software review platform, today released the Fall 2017 Accounting Software Grid® report to help businesses make the best Accounting technology buying decision. NetSuite ERP, QuickBooks Desktop Pro, Sage Intacct, QuickBooks Online, SAP ERP, Quickbooks Desktop Enterprise, PeopleSoft, FinancialForce Accounting, Sage 100c, Microsoft Dynamics GP, and Deltek Vision were named Leaders in the report, receiving a strong customer satisfaction score with a large market presence.
Kashoo, CCH ProSystem fx Tax, and Acumatica were named High Performers in the report, earning strong customer satisfaction marks with smaller market presence scores. Sage Intacct earned the highest overall satisfaction score while Netsuite ERP earned the highest overall market presence score.
This report also breaks down the Accounting category, based on market presence and customer satisfaction score, for Small-Business, Mid-Market, and Enterprise reviewers. At the small-business level, Quickbooks Desktop Pro for the highest overall satisfaction score and Netsuite ERP earned the highest overall market presence score. In the mid-market segment, Sage Intacct received the highest overall satisfaction score and Netsuite ERP earned the highest overall market presence score. Finally, at the enterprise level, SAP ERP earned the highest overall satisfaction score and Oracle PeopleSoft earned the highest overall market presence score.
The Grid® leverages customer satisfaction data reported by authenticated users along with vendor market presence determined from social and public data. Based on a combination of these scores, each software solution is categorized as a Leader, High Performer, Contender or Niche.
Key Findings:

Small-business requirements not necessarily met — Small-business users of accounting software explained that the most significant hurdles with the products they used are the high cost of the solution and excessive features offered. Conversely, some users mentioned how some of the solutions scale well along with business operations, or offer the potential to do so. A user of Acumatica, for example, explained that "Some features are just far too complicated or overkill for smallish business. Due to the nature of our business, we use only a subset of the many, many features." Users of other accounting products echoed the sentiment, stating the high costs make it difficult for smaller companies to remain with the product, especially if the product has a significant learning curve.
Reporting functionality — While some users said that they can easily manipulate and create reports with their accounting products, the majority of users said that creating those reports is frustrating. Users pointed out that, many times, reports aren't accurate or do not pull from the correct sources. According to users, custom reports and custom data views are difficult to create or far too complicated to get accustomed to. Most users prefer simple, straightforward, and intuitive reporting capabilities that don't require a third-party consultant to configure.
About the Accounting Software Grid® report:
The report is based on more than 2,215 reviews written by business professionals.
Of the 133 products listed in G2 Crowd's Accounting category, the ranked products each received ten or more reviews to qualify for inclusion on the Grid®.
About G2 Crowd, Inc.
G2 Crowd, the world's leading business solution review platform, leverages more than 225,000 user reviews to drive better purchasing decisions. Business professionals, buyers, investors, and analysts use the site to compare and select the best software and services based on peer reviews and synthesized social data. Every month, nearly one million people visit G2 Crowd's site to gain unique insights. Co-founded by the founder and former executives of SaaS leaders like BigMachines (acquired by Oracle) and SteelBrick (acquired by Salesforce) and backed by more than $45 million in capital, G2 Crowd aims to bring authenticity and transparency to the business marketplace. For more information, go to G2Crowd.com.